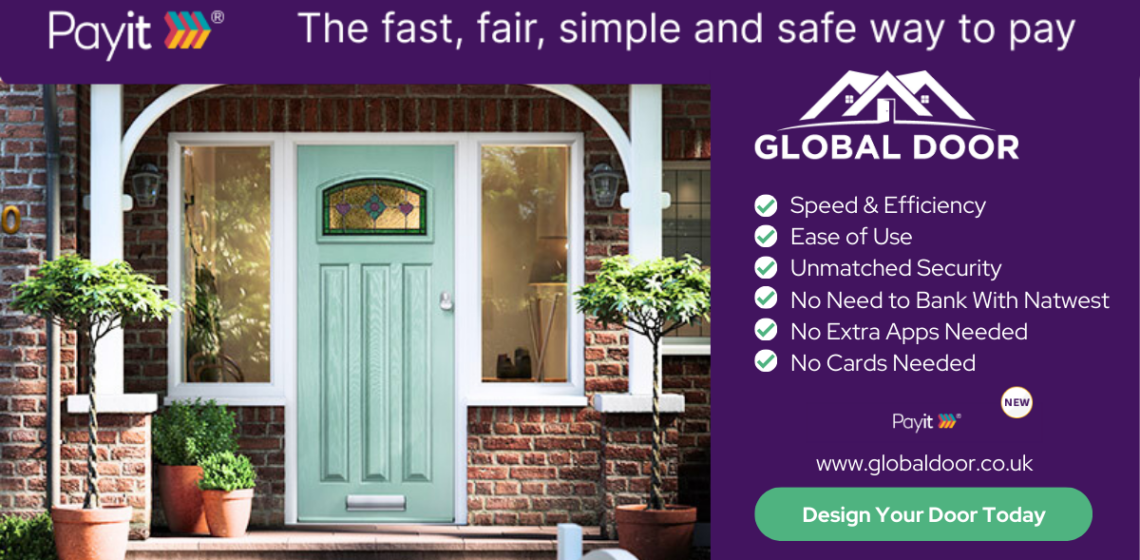 Here at Global Door, we're super excited to introduce NatWest Payit™ – a revolutionary payment method that's set to transform the way we handle online transactions. It's time to let the world know about this game-changing innovation that offers a quicker, easier, and more secure way to make payments online. What's even better is that you don't need to be a NatWest customer to enjoy its benefits.

Why Choose NatWest Payit?
1. Speed and Efficiency
NatWest Payit™ is designed with your convenience in mind. It streamlines the payment process, making it faster and more efficient than ever before. Say goodbye to the hassles of finding your wallets and cards out of your coat pockets and waiting for transactions to clear or dealing with cumbersome payment methods. With NatWest Payit™, payments are processed in real time, saving you precious time and ensuring that your funds are where they should be when you need them.
2. Ease of Use
We understand the importance of user-friendliness in online payments. NatWest Payit™ is incredibly easy to use, both for businesses and customers. Making payments or receiving them has never been more straightforward. Plus, our intuitive interface ensures that you can navigate the platform effortlessly, making it accessible for everyone, regardless of their technical expertise. You don't need an extra app either to use Natwest Payit, the initial transfer from Natwest Payit to your bank is done by using a web browse.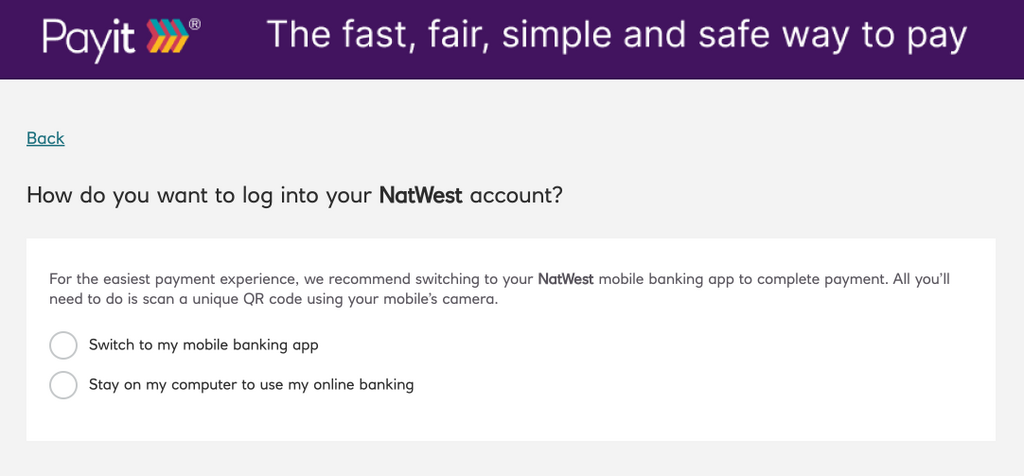 3. Unmatched Security
Security is paramount when it comes to online payments, and NatWest Payit™ takes it very seriously. With state-of-the-art security measures to protect your financial transactions. From end-to-end encryption to multi-factor authentication, rest assured that your data and funds are in safe hands. NatWest's robust fraud monitoring systems also provide an added layer of protection, giving you peace of mind every time you use Payit™.
4. No Need to Bank with NatWest
Here's the best part: you don't have to be a NatWest customer to enjoy the benefits of NatWest Payit™. We believe that everyone should have access to a more efficient and secure way of handling online payments, regardless of where they bank. So, whether you're a business owner or an individual looking for a hassle-free payment solution, NatWest Payit™ is here for you.
In conclusion, NatWest Payit™ is not just a payment method; it's a revolution in online payments. It's faster, easier, and more secure than ever, and you don't need to bank with NatWest to experience its benefits. At GFD Trading our mission is to make our customer's journey as enjoyable and efficient as possible, integrating Natwest Payit is notably one of our biggest checkout innovations this year. We're confident in bringing our customers the best and keeping all our customers in mind, those tech-savvy and those not so technically-minded can all navigate our systems with ease.
FAQ's about NatWest Payit
Q1. What is Payit™?
Payit™ is a fast, fair, simple, and secure way to make payments online. You won't need to log in, sign up, or enter card details. Forget about passwords and authorization codes. With Payit™, you can view all your bank accounts and balances in one place and select your preferred payment method.
Q2. Do I need to be a NatWest customer to use Payit™?
No, you don't need to be a NatWest customer to use Payit™. It's available to customers of several major UK banks.
Q3. How secure is Payit™, and how do I authenticate the payment?
Payit™ uses the UK's Open Banking infrastructure to securely connect to your bank's mobile banking app or online banking. You'll use your existing credentials to log in. Payit™ does not access or store your login information or personal bank account details.
Q4. Is Payit™ an app?
No, Payit™ is not an app. It's an online payment solution integrated into a merchant's website or app. You can use it on desktops, laptops, mobiles, or tablets.
Q5. Does Payit™ have to be used on a mobile/tablet, or can I use it on a browser?
Yes, you can use Payit™ on a web browser, but the experience is smoother on mobile. To use Payit™ via a web browser, sign in to your online banking.
Q6. Is there a limit on how much I can pay with Payit™?
There is no limit on how much you can pay with Payit™. However, your bank may have transaction limits that Payit™ follows.
Q7. How much does it cost to use Payit™?
Using Payit™ to make payments is free. There are no charges.
Q8. Why has my transaction been held?
Sometimes, your bank may hold transactions for additional checks. You can check your mobile or online banking to see if the payment was released or contact your bank through the usual channels.
Q9. I tried to make a payment with Payit™, but it didn't go through. How do I know if the funds have been taken?
If Payit™ advised that the payment was cancelled or failed, no funds should be deducted. If the payment is in progress or you're unsure if it was successful, wait a few hours, check your online or mobile banking, and contact your bank if needed.
Q10. What should I do if I experience issues, like errors or timeouts?
If you encounter issues like payment faults, inability to proceed past bank selection, timeouts, or error messages, wait for a few hours, then check your online or mobile banking. If the problem persists, contact us or your processing bank immediately.
Q11. My bank is not listed.
We're continually adding more major UK banks to our list. Keep choosing Payit™, and your preferred bank may be available soon.
Q12. Where can I find more information about Payit™ and Open Banking?
Payit™ is a secure way to pay directly from your bank. It uses Open Banking technology available at most major UK banks. More information on Payit™ and Open Banking will be provided as we continue the launch phase.
Q13. The page isn't accessible or doesn't look right on my browser. What should I do?
We've optimised Payit™ for mainstream desktop browsers and mobile devices. Smaller providers or older devices may not display the journey correctly. Rest assured, Payit™ is safe, and your transaction should work as intended.
Q14. Why should I use Payit™ over other payment methods?
Payit™ is fast, fair, simple, and safe. It provides a seamless payment experience where you can select the account to pay from, see all your bank and credit card balances in one place, and make payments without logging in, signing up, or entering card details.
Q15. Where can I review my Payit™ purchases?
All payments made through Payit™ will appear in your bank statement.
Q16. How does the payment journey work?
The Payit™ payment journey is simple:
Choose to pay with Payit™ when making a payment.
Select your bank.
Log in securely to your online or mobile banking following your bank's security procedures.
Choose the account to pay from.
Confirm your payment.
Q17. How long does it take for money to be deducted from my account?
Payit™ is a participant in Faster Payments, so payments should be deducted almost immediately. However, it may take up to two hours in some cases.
Q18. Are my payments protected like credit or debit card transactions?
Payments made via Payit™ currently do not have the same level of consumer protection as credit or debit cards. However, the open banking landscape is evolving, and this may change in the future.
Q19. My banking app isn't opening on my phone. What should I do?
To resolve this issue:
Ensure you have the latest version of the banking app.
If using an Android device, use Chrome instead of Samsung Internet or enable the "Open links in other apps" setting in Samsung Internet under "Useful Features."
If on an Android device and completing the payment journey through another app, such as a social media channel, copy the browser link and open it in your standard browser app.
Q20. I started the journey but cancelled the transaction, and now my app is stuck. What should I do?
Fully close the app and refresh it to start the payment journey again.