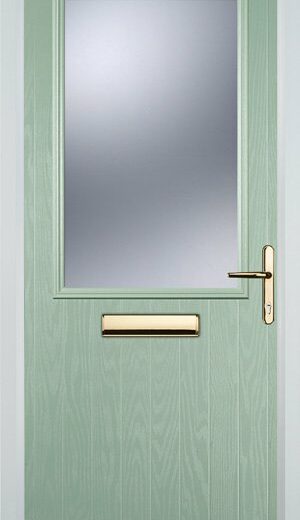 Global Door are a nationwide supplier of front doors for homes. We have installed front and back doors for homes across the UK, and also fit composite doors in Northern Ireland too.
Many of our customers seem to find us after having a bad experience with a local or large national company. We know that some customers are still wary of spending a lot of money on a product without actually seeing it (and rightly so), however we feel that our composite door reviews show our dedication to customer service, and more importantly the high quality of our products.
If you are considering a front door for your home, take a look at the two diary excerpts below.
One is from a customer of a well known large national company (we can't disclose company name) but will be known as just 'National Windows' for the purpose of this exercise. The second diary entry is from a Global Door First Class customer, and gives you an idea of what to expect when you choose us to supply front or back doors for homes.
National Windows customer:
March 1st: Visited National Windows website and was unimpressed by the outdated website and inaccurate data. I found the confusing navigation and the fact that no prices were displayed online led me to booking a home appointment with a salesman. However I thought this would be ok as the company advertised on the TV, so must be reputable.
March 5th: Salesman finally arrived. After showing me some non-de-script brochures (and making small talk for two hours) he finally gave me a price for a new composite front door, which was just shy of £4000. After almost being sick at this comment, he assured me that his manager would be able to do something. Further phone calls ensued, the outcome was a price of £2000, and after what seemed like a lifetime he left. Phew, what a waste of an afternoon! SHould have just got to the price straight away.
March 7th: Decided to go ahead with National Windows – they are all over the telly after all so they must be half decent? Rang up to pay deposit and was told a surveyor would call shortly.
March 9th: Still no phone call, had to call them to chase the surveyor up. 
March 11th: A man arrived this morning in a white transit van, he seemed to think he was measuring windows. I informed him that it was the front door he was here to measure. A surly gentleman to say the least.
March 14th: Still not heard anything so rang the office again. After much fumbling around I was told that someone would call me back later today. To say I am not filled with confidence is an understatement.
March 15th: Rang the office again getting very agitated now. I am informed the door is to be made and I have to pay the full balance up front!
March 20th: Rang up to chase an installation date. The communication from this company is appalling. 
April 7th: Door is finally fitted a month after I placed the order. The fitters again turn up in an unmarked van, and despite doing an OK job leave the hallway a mess and also haven't finished the door to my liking. There are no trims around the outside door frame, and it looks like someone has used the silicon gun with their feet. I decide to say nothing and just live with it. Door is OK quality, but does not seem worth the large price tag. 
A typical Global First Class scenario:
March 1st: Found Global Door website online – refreshing to find a website that explains things clearly without a load of waffle. Also used the online door designer, this was great as it gave me a complete installation price instantly. Surely this price can't be right? I was quote over double this from Cowboy Windows.
March 2nd: After playing on the door designer some more I rang the office to see why the price was so much cheaper. I assumed the doors are cheap quality? Spoke to a knowledgeable salesperson who explained that as Global are E-commerce and do not have the overheads of salesmen and showrooms, they can reduce their costs and pass the savings on to the customer. I bet he had that patter ready, the silver tongued charmer.
March 7th: After looking at other composite door websites decided to go with Global. their price is very competitive and they also offer guarantees and insurance that other companies cant. Paid £60 deposit online. I was called two hours later by the survey team who scheduled to measure the door tomorrow – now that is service!!
March 8th: A friendly gentleman turned up to measure the door. He discussed with me the threshold options (I didn't know what that was until he said) and advised how they would finish off the door. He then took photographs of the door.
March 9th: Someone from Global rang and went through the survey details with me. I was glad of this as I haven't ordered something like this online before, and it was nice to speak to someone about the door in detail. At the end of the call I paid 50% of the remaining balance and was told to expect a call to arrange installation.
March 10th: global installation team rang to schedule installation for the following week! I am most impressed at the communication and efficiency of this company so far.
March 17th: Global arrive to install the door. The fitters are very tidy and polite, and do a  terrific job. I notice the fitters use trims all around the external face of the door to cover up some marks in the brickwork, which I hadn't expected but is a nice touch. The new door itself is fabulous, very modern looking and I cant believe the quality. I needn't have worried – it is much stronger than my old door and looks fantastic. The fitters take away my old uPVC door and even hoover up after themselves.
March 19th: Global Door call to check that I am happy with the new door and that it is operating correctly. I say I am over the moon and happily pay the remaining balance. Well done Global!