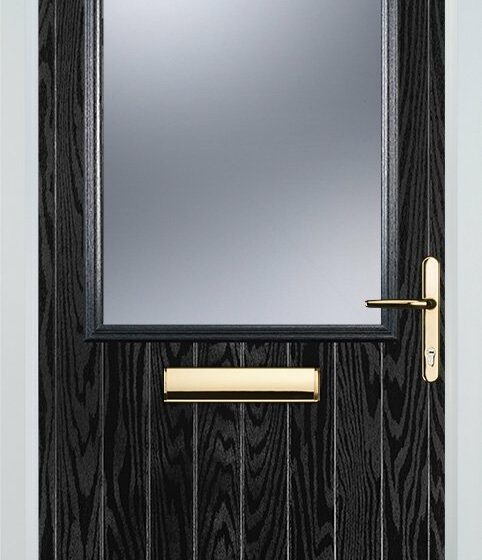 Secured by design what could be more reassuring?
Why do you need it and what does it mean?
Regrettably, statistics show that when it comes to burglaries here in the UK, front doors are unfortunately the main source of access and therefore they need to be made as secure as possible.
So what can you expect a burglar to do gain entry and how do you protect against it – in many instances it depends upon your choice of door but entry is normally gained by either –
Brute force as in attacking a door panel with a hammer or a foot or bar
Breaking a glazed panel
Breaking the lock by either snapping the mechanism or driving the mechanism through the door (view a video showing how this can be carried out in as little as 20 seconds)

One of the best way to ensure that your door is as secure as possible is to make sure it complies with a "secured by design accreditation" or SBD as it is also known.
This accreditation that has been approved by the Police Force and basically means that the door is upgraded to be as secure as possible in accordance with Police guidelines (check out the Secured by Design web site for a full list of standards)

The Global Door First Class Service ensures that all of our doors receive SBD fittings as standard, not just any lock, spy hole and security chains etc. but –
Secured by Design locks as standard, which means that they must comply with BS3261 or PAS 3621: 2011 "Thief resistant locks and multi point locks. Key egress."
This is

the minimum standard for locks on external or entrance doors to be acceptable to the Association of British Insurers (ABI) and the police service. The effectiveness of the lock also depends on the quality of the door, frame and other hardware which is not tested by this standard and which may fail before the lock.
Glass – the option to upgrade to laminated glass, which as it will not shatter prevents access
Spy-holes which must comply with DHF TS 002: 2009 Door viewers
Requirements and test methods for all forms of door viewer, designed to be used on doors in buildings, to allow occupants to detect and identify callers without having to reveal their own identity, or even their presence in some circumstances, to the caller.
Security chains which must comply with DHF TS 003: 2012 Door chains and limiters


This standard specifies requirements and test methods for all forms of door opening restrictor designed to be used on doors in buildings.
In order to ensure that the opportunity to gain access by breaking the structure of the door is minimised – Secured by Design also has an requirement, PAS24 to ensure the strength and security of a door-set will withstand a typical attack upon the door.
To achieve pas24, our composite doors undergo severe brute force attacks where over 35KG of force is applied to the door. The doors have to withstand 30 minutes of severe attack, an attack in which the locking cylinders are also targeted.
Global Door put's our customer's security above everything else.
When it comes to the security of your new front door knowing that it meets with the stringent requirements of Secured by design will give you that extra feeling of well-being, that all that can be done to protect your front door has already been carried out on your behalf.