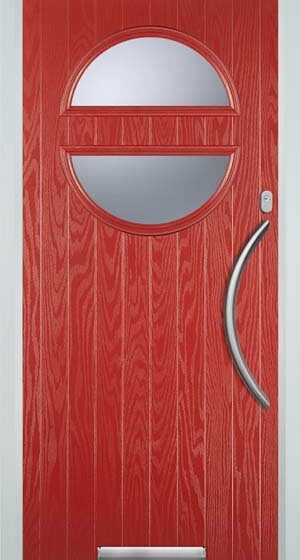 Thermally efficient upgrades are something to consider when you purchase your new front door.
The one thing that we can guarantee with the UK climate is that sometime between October and March there will be an exceptionally cold period of weather, which in recent years has extended in to snow in the middle of May as seen here.
This is when you most need a draught proof well fitted and thermally efficient front door. A Thermal Upgrade of your new front door may not guarantee that your home will be warm this coming winter but it will certainly assist in effectively reducing heat loss from one key area of your home.
A recent Department of Energy and Climate Change (DECC) study advised that, insulated doors are the third most cost effective Energy-saving home improvement that it is possible to make, a replacement boiler and cavity wall insulation being the most cost effective savings.
Similar to electrical appliances, doors can now be tested for their Energy efficiency and be given a simple A-G rating. A high performance insulated door will have a minimum energy rating of 'C' and above, it is advisable to avoid doors with a rating of 'D' or below. The rating your door will be influenced by its glazing content. Current legislation requires that all new doors sold and fitted in England & Wales must have a "U" value not exceeding 1.8W/m2K and the lower level of (1.6W/m2K applying in Scotland).
The U-value of a door is a measurement of its energy efficiency, the lower the value the more energy efficient it will be.
Every Global Door comes with its own individual energy rating certificate between A and C.
Click here to find out more about our ECO/Energy Page
When you purchase a new front door from us the construction of the door is already fulfilling a large part of the thermal upgrade criteria because the high density 100% CFC free solid foam core, which is not only strong but also, has excellent thermal properties. The thermal features of your door are further enhanced by the use of rebated frames and superior draught sealing.
Thermal upgrades do not stop with the door construction as they can also be utilised with the glazing that you choose.
So what does a Thermal upgrade mean with respect to your double glazed units, they are injected with argon gas to improve insulation and they will also have a warm edge spacer bar, which does not conduct the cold air like the standard aluminium glazing spacer bar, plus every "first class customer "will receive Pilkington (the world's leading glass supplier) glass as standard Pilkington glass is the industry standard and ensures that your glazing will continue to perform for many years.
Thermal upgrades are proven to improve the energy efficiency of a property, which can lead to saving money on heating bill.
For that added comfort a thermally efficient door is essential to your home, as this is the most common area for heat loss.