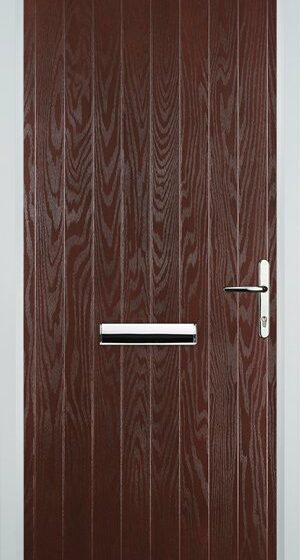 Continuing this years trend of exceeding customer expectations, Global Door are please to announce our two brand new colour options; Dark Wood & Golden Oak.
Both of these traditional finishes became popular uPVC options in the early 90's, offering the appearance of treated wood and a more elegant alternative to white uPVC. Dark Wood options were offered under various guises, including Mahogany, Rosewood and Cherrywood. Golden Oak is also sometimes referred to as light Oak or Honey Oak.
Our previous incarnation of the light Oak has now been discontinued, and due to popular demand is now colour matched to the industry standard Golden Oak.
There was a downside to these foiled uPVC doors however, as they were prone to warping and shrinkage after only a few years, especially when exposed to a lot of sunlight. They suffered from this even more so than white uPVC. Rosewood uPVC doors became notorious for this, and as a result these traditional finishes have never been fully embraced by the composite market – until now.
Rather than simply 'spraying' a rosewood or oak finish, at Global Door we now manufacture these classic options in the same way we produce all our doors – by applying a through-colour to the GRP skin of the door. This ensures that like our other five colors there is zero risk of warping or sun fade, and even better there is no paint to crack or splinter off.
We have been amazed at the reaction we have received since we rolled out the new colour options last month. We have been inundated with orders, especially for the Dark Wood, and customer reactions have been very promising. A lot of customers still prefer a more traditional wood effect to match fascias, decor or existing wooden windows, and it is undeniable that both Dark Wood and Oak doors look particularly striking on cottages and more traditional properties.