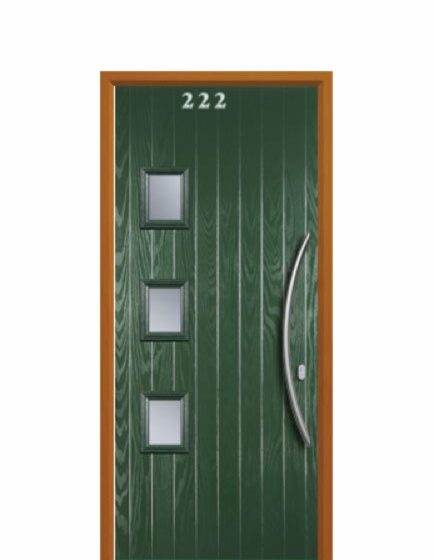 Front Doors make sure yours looks the part!
The majority of us have one and everybody wants one a front door that they can call their own, so it is only natural that as it is the first thing any caller identifies with our home that we should want to make it as attractive as possible so it creates a lasting impression.
Front doors come in many shapes sizes materials etc – the one that we would always recommend is the composite door – as the name suggests it is made from a number of varying materials all put together in a quality controlled factory environment where the door and frame can be precision engineered so that you are always guaranteed a perfect fit.
But, why should you buy composite Front Doors? After all, aren't uPVC Front Doors already renowned for incorporating many of the essential features that you require from a front door, while also being cost-effective?
Well, you might have thought so, but in truth, you'd be surprised by the many benefits that composite doors offer over the alternatives. a high level of strength, safety and security- thermally efficient and because the core material be it compressed polyurethane foam or compressed hardwood can be shaped and formed to virtually any shape you can have a composite door in numerous styles.
There are many things that people want Front Doors to do, but the biggest, most commonly-mentioned priority of all is to ensure that they keep their family and their belongings genuinely safe and secure and as all of our Composite doors here at Global door come with multi-point locking systems  as standard – security is guaranteed. Not only that, but there is also a UK police initiative by the name of Secured By Design, that targets the improvement of the security of all aspects of your property all Global Doors achieve both this Secured by Design Standard and they are also compliant with the rigorous testing standards of PAS 23/24 which ensures that they are durable and weather proof.
All of the Global range of doors are very, very attractive in appearance with twenty two styles available in ten colours and with both traditional and contemporary hardware a multitude of accessories and glazing options – there is something for everyone in this range to see details of all of the styles and colours check out the Door Styles page of our web site where you will find both photographs of doors in both brochure display and real installed  locations..
For example just take at these couple of doors using black frames instead of the traditional white –   what's not to like these doors would grace any home.
Whether you are looking for an ultra-contemporary appearance or a door to grace your historic country cottage- we have a door for you.
That's why it makes so much sense to choose from the billions of options that Global Door offers for the customisation of your front door's appearance – beautiful doors, wonderful styles, rich and subtle colours – our doors blend into any surrounding.
Just to round off our service here at the GFD Group we install anywhere throughout the UK – an installation service that is tried and tested if we believe (and we do) the independent comments our customers post on Trust Pilot
Front doors are our business here at the GFD Group – we have operated a number of successful on line web sales outlets for some eight years  – Global door is our longest operating outlet so that you can be sure that if you by your new front door from us we have the experience and "know how" to provide you with the product and service that will stand all the tests that time and the weather can throw at it.