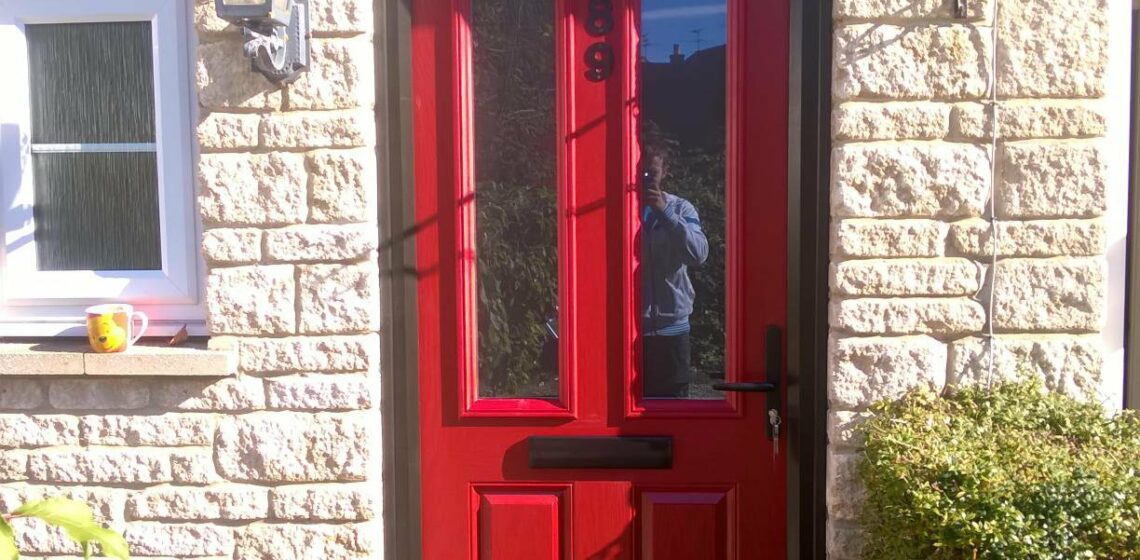 Composite doors – not really complex
Composite doors, what are they made from and how do they work? Is definitely one of our most frequently asked questions here at GFD Group home of Global Door.
The problem in answering this question is that it is a bit like a one of those multi choice exam questions – there are the simple non-technical answers and then there are the specification related questions – we at Global Door have found it is best to respond with a series of answers.
We all know what a door is and what its intended purpose is so what is different about a composite door – the answer is in the name – where the majority of older doors were made from one material – timber. UPVC, Aluminium etc a composite door as the name suggest is made from a number of materials – it is not hand engineered by craftsmen, it is a factory produced product whereby Environmental and Quality factors can be controlled and the components –
Hardwood
Metal reinforcement
Compressed polyurethane which forms the core of the door and provides excellent thermal insulation.
2mm thick GRP cladding
are the materials that form the basis of the door construction
The metal reinforced hardwood inner frame reinforced provides the strength and rigidity, the polyurethane foam core provides a template which can be modelled to reproduce any pattern of door, the 2mm thick through coloured GRP cladding and edging bonds the door construction together and further reinforces its strength.
As the product is factory produced the UPVC frame can be engineered to fit each individual door template and the two components can be married together as a door and frame unit in the factory therefore ensuring a secure square fit which when draughtproofing is installed means that when taken to site a reliable draught free fit is all but guaranteed
The above answer covers the door and frame assembly but a Global Door offers so much more of security, protection from the elements and sound and thermal energy benefits all of which we consider of major importance.
Security – all modern doors have to achieve certain standards to show that they are durable and weatherproof therefore we have to have them tested by independent third parties – all of our doors have passed the "rigorous testing standards required to prevent criminal attacks" and achieved the required "PAS 23 & 24" accreditation. This addresses the door but to achieve "Secured by Design" accredited (the UK Police and Insurance Company sponsored initiative to ensure safer homes) we also have to prove we have secure locking systems – with our doors this is achieved by the use of multi point locking systems and the fitting of the "Ultion" lock as standard ( the Ultion lock is currently recognised as the most secure lock for the domestic market) At Global Door we are so aware of our responsibilities with regard to security that we dedicate a "Security" page on our web site pointing out the statistics and our solutions to this problem.
Protection from the elements – whereas a timber door can soak up water causing warping, twisting of the door and where the colour of UPVC can fade and discolour with time – the factory bonding of the two external GRP skins to the solid core neither absorbs water and therefore warping, twisting and bowing are an extremely rare occurrence nor will the colour fade in time – the GRP cladding is in fact so hard wearing that it eliminate the need for decoration for the lifetime of the door – other than the occasional wipe with a damp cloth.
Sound and thermal Efficiency benefits – a composite door in order to incorporate the rigid polyurethane core is slightly thicker than most timber or UPVC doors and as this core material provides superb installation qualities it substantially reduces sound transfer and more importantly significantly reduces heat loss through the door a benefit which is further enhanced by the factory installed seal tight draughtproofing
The final or in most cases the first question prospective purchasers want answered is "what do they look like?" – to answer "Great" is a little too simple so at this point we tend to direct all interested parties to the Door Styles page of our web site where they can view the twenty seven door styles – doors for every location fourteen traditional and seven contemporary and six cottage- and they are all available in a range of thirteen external colours and each style is available with complimentary hardware and glazing accessories selected to match perfectly with the individual styles.
As we said at the beginning – Composite Doors are not really complex and we hope we have explained and made it easier for you to understand with this blog however if we have sufficiently whetted your appetite that you want to know more a visit to the Global Door web site should answer any remaining questions you may have.
Our web site is designed to be easy to navigate and is crammed full of interesting information plus we allow you to specify and design the door of your choice simply click "Quick Quote" on the drop down menu on the home page and follow the step by step guide to creating the door you really want.
Some of the other interesting features you may wish to consider are our "first class" installation service or if finances post-Christmas are a little tight our 0% Finance Offers (available to qualifying customers ) or if you want to know what those who have already taken advantage of our supply and install service have to say about us you can check out the Trust Pilot reviews
At Global Door we believe buying a new composite front door should be simple not complex.