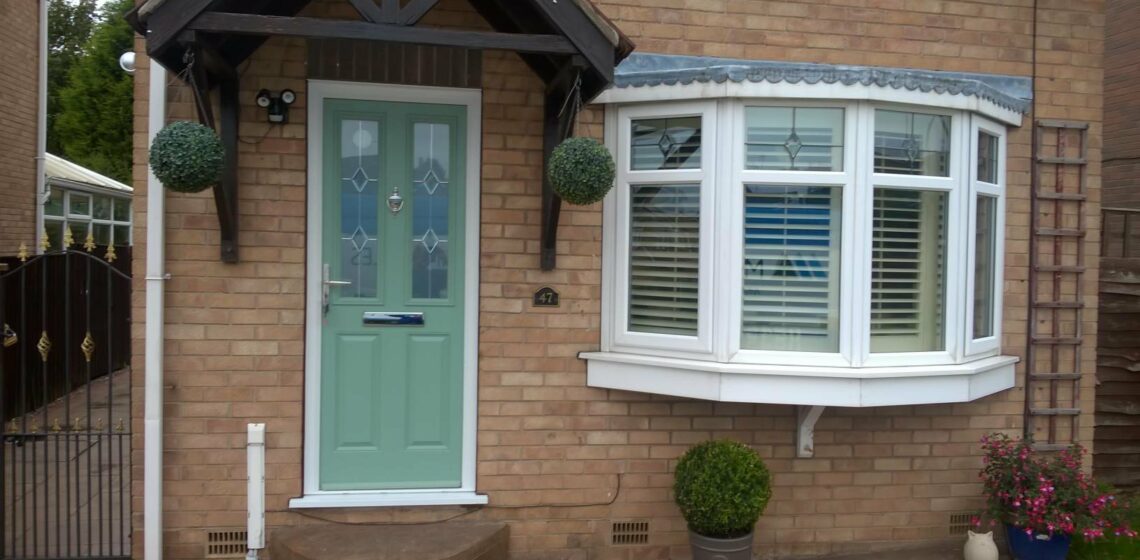 Composite front doors, everyone gets to choose
From the traditional to the Contemporary
Both images are lifted straight from our Gallery Page where you will find hundreds of examples of actual installations of Global Doors all carried out by our specialist installation teams
Two doors that look completely different but which have one thing in common they are both "Composite Doors" because the construction of these doors is so adaptable they have revolutionised the front door market and given the customer a much greater choice of styles and colour. The key to this adaptability is the solid thermally insulated polyurethane foam core slab which along with the 2mm through coloured GRP cladding can be cut and moulded during the construction process to mimic the design of any door style whether it be Traditional, Contemporary, a Stable door or a pair of French Doors, everything is possible.

Every Global door is manufactured to exacting factory standards where Quality Control is key and as the door and frame are engineered as a complete unit it is all but guaranteed that when installed your new composite front door will provide a warmer (because of the thermal efficiency of the core slab) and draught free (because of the factory installed proofing) environment for you and your family. As the door also includes a reinforced hardwood frame and is manufactured to a thickness of 44mm this ensures that the door will have strength and durability the equivalent of any timber door, a fact which is supported by the accreditations which come as part of any Global Door package "Secured by design" (the one approved by Police and Insurance companies) and PAS 23 &24 the industry standard test for strength and durability which involves independent testing by third parties.
At Global Door we try to provide the service our customers want and that starts with choosing the door you want not the one that a Salesman wants to sell you – a visit to our Door Designer accessed from the "quick quote" drop down menu on the home page of our web site will open up a whole world of door options for you to explore – you make the choices and design the door of your choice styles, colours and hardware – the door you design will be bespoke to you. We have taken the time with our web site to make it as "user friendly " as possible, cram it full of specification information and superb photographs and graphics so that when you come to design your new door all you have to do is follow the step by step instructions – it's easy for anyone and of course as you can go back and edit your door choices you can create multiple examples of the door you would like before you make that final decision.
With a choice of thirteen traditional styles, eight contemporary styles and four cottage styles all of which are available in a range of thirteen external colours (white is standard for the internal colour) that's a pretty big basis of choice before you consider the glazing or the hardware and they also provide a lot of options of style and colour (three for your hardware alone) – in fact there are far more options than we could possibly list here. At Global Door, we simply await your decision on the door you want before we leap into action. The first thing you require is a competitive price and we provide this as an on-screen element of your door designer – the price of the door you design is the price you will pay, there are no hidden extras. You like the price, you place the order and we take over, when you choose our installation service – firstly we survey your property and check for problems, confirm dimensions etc. then we order your door to your specification, we confirm everything with you electronically dates, times and then, one morning normally within three weeks of placing of your order, our installation team will be at your door ready to install.
And you could be looking forward to a this above (again taken from the Gallery)
Unless you are a DIY fanatic a typical composite door has one huge advantage over a more traditional timber door, where timber doors are subject to rot and decay over a period of time if not maintained in good decorative order, the maintenance of a similar pattern composite door will be limited to a wipe with a damp cloth and the occasional "oiling" of locks and hinges and this should ensure an anticipated lifespan of 30 years.
From style of door, choices of colour glazing or accessories we can provide them all and all at competitive prices , everything in fact to personalise the appearance your door as we said in the header to this article Composite front doors, everyone gets to choose – to find out more why not visit our Global Door web site and check it all out for yourself.
PS – did anyone notice something rather special about one of the two photographs that headed this article – take another look at the one on the left – the Dark wood two panel one arch door – we were going to crop the photograph but then we noted the bottom right hand corner to remove the cable that runs up the wall and the central heating vent but then we spotted the rather cute little earthenware gnome sitting guarding the step and decided it had to stay.