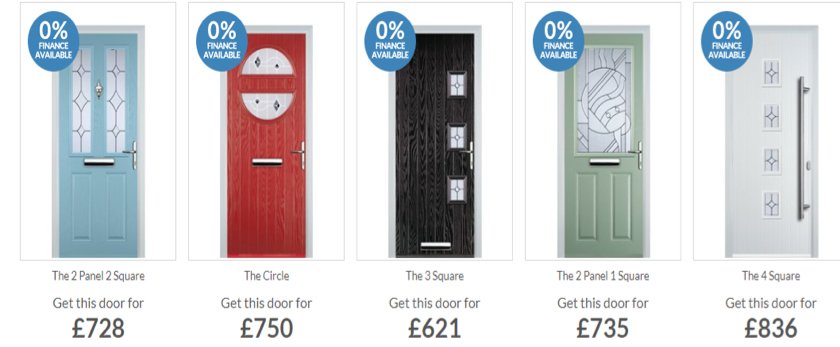 Only three months (hopefully) until the weather turns.
Less than a quarter of the way into the New Year, the last of the Christmas lights are but a dim memory, Brexit seems to be forgotten as the "go to" daily topic of conversation only to be replaced by the good old "British" favourite – the weather. With a month or so to go still to the Spring Equinox – the weeks while we wait for longer days are going to seem like an eternity for some of us, because, in the in-between time the weather is not likely to improve dramatically. So, we can all look forward to dark damp dreary and worst of all windy days (with the odd glimpse of the sun) for at least the next couple of months – Oh Joy.
At Global Door we have a vested interest in all of the individuals out there who have not invested in a new front door for years and years – because you are the unfortunate ones who will be suffering the cold draughts brought on by the recent high winds. Its worth remembering that every time you turn up your heating to compensate for those draught's that you may as well just set fire to another Five pound note you really are in a "No win "situation. Back to our vested interest, at Global Door we can supply and install a new composite front door of your choice in a matter of a couple of weeks you have to "speculate to accumulate " as they say and although our doors are competitively priced they are not cheap but weigh that against the fact they are factory draught proofed and durable and strong enough to last thirty years. We do not expect any of our customers to keep our doors for thirty years but even ten years of not "burning money" on excessive heating costs would in many instances more than offset the cost of the initial outlay.
The benefits of a new Global door do not end with draughtproofing and durability – just imagine your "street credibility" of a shiny new front door, the envious glance of friends and neighbours. At Global Door we have a "door designer" which allows you to select the best of your own preferences from our entire range of styles colours and accessories to ensure you get the best late Christmas present of all – a new front door of YOUR choice
As we can also deliver and install anywhere throughout the UK and we can even assist qualifying individuals with our 0% finance deals – is it not time that you stopped burning money on excessive heating bills – a visit to Global Door could be the answer to your needs.