The days are slowly growing longer even though it may not actually seem that way. The sun will soon be starting its annual rise in the heavens and spreading a little warmth for all of us to enjoy. This is the time when most of us start to think about summer holidays and long warm days and nights.
We so easily forget the dark days of winter when the thought of holidays arrives. But, among those dark winter thoughts have you already forgotten the way you cursed the draughts coming through the front door bringing the winter chill with them. Have you forgotten getting the whole family together and laying down the law about how the heating could not be run at its present level because the gas bill had gone through the roof?
The winter is still far from over and there is snow in the forecast – maybe the thoughts of holidays need to go on hold while you address the greater priority of those draughts that are still whistling around your ankles, which means your boiler will be working overtime. Maybe, that new front door should be your current priority – something cost-effective with excellent draughtproofing and good thermal qualities with an excellent range of styles and colours is what you need. Something in fact like a Global Door door would fit all of those criteria, plus they install throughout the UK and are a long-established reputable company with excellent Trust Pilot reviews.
If you are still wavering here is something to think about – a recent Department of Energy and Climate Change (DECC) study advised that insulated doors are the third most cost-effective Energy-saving home improvement. To make it even easier to decide doors are now rated for their energy efficiency with a simple A-G rating so you can tell exactly how efficient a new front door maybe. Measured in W/m2K the U-value of a door's energy efficiency, the rating of every door will be influenced by its glazing content a high-performance insulated door will have a minimum energy rating of 'C' and above, it is advisable to avoid doors with a rating of 'D' or below.
Every Global Door comes with its own individual energy rating certificate between A and C. This is achieved because they are manufactured with a high density 100% CFC free solid foam core, which is not only strong but also, has excellent thermal properties. Every door is constructed and installed as a "door set" i.e. pre-engineered where door and frame are factory assembled as one, not only does this mean the door will fit the frame it means the draught sealing is factory applied to guarantee a superior fit and no draughts. To assist with heat loss from glazed panels upgrades are available where warm edge spacer bar, which does not conduct the cold air is used and the double-glazed units are injected with argon gas to further improve the insulation quality.
As we mentioned earlier they also look good check out the sample below –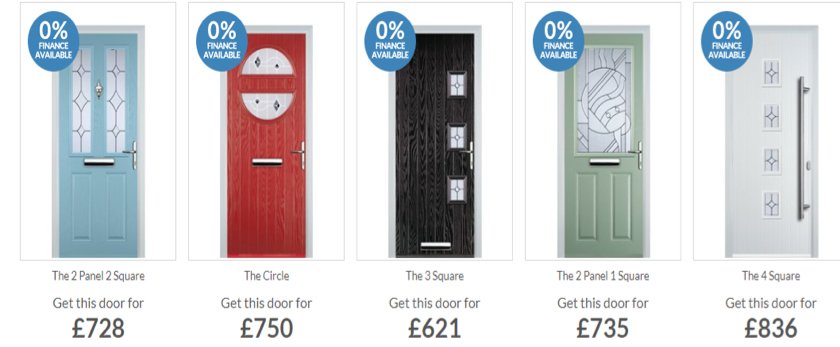 With looks as good as this they will definitely both improve the value of your home and draw envious looks from friends and family. The prices quoted are for a "supply only" door the installation costs may change with your location but these doors if well maintained could last you circa thirty years – which makes them seem even more reasonable when compared to the cost of a family holiday.
Why delay any longer, find out more at Global Door