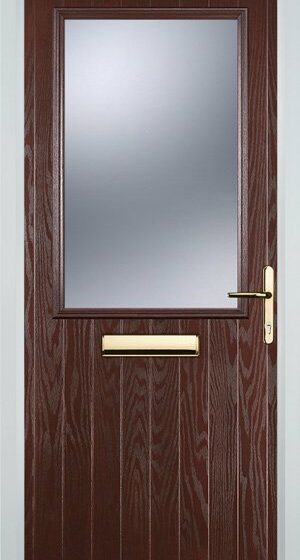 A few weeks ago we received a call from a gentleman who had purchased one of our doors over two years ago. Unfortunately whilst he had been on holiday with his wife and children, somebody had tried to break into his property.
The attacker had targeted the back door (as most do as they are generally more secluded than the front), and was obviously equipped with a crowbar and some other tools. Quite how long he attacked the door for is unknown, however the damage left would suggest that he had tried his hardest to prise the leaf out of the frame using blunt force.
As you can see from the photo below, the outer frame on the lock side has been almost smashed completely through, the gasket has been ripped out and the cylinder showed signs of tampering. There was also evidence that the door had been kicked and attacked at the bottom, usually the weakest point on a uPVC door. It is not impossible to kick a uPVC panel clean through at the bottom if kicked hard enough, however with our 44mm thick composite doors, a broken foot is the only outcome.
It is a frightening thought that people are so willing to intrude in some ones property, and this particular individual obviously spent a good few minutes trying. What is comforting though, is that our composite doors have yet again proved to be as safe and secure as we say. There is no way that an old timber or uPVC door could withstand such a brutal attack, however a Global composite door is proven to be one of the safest on the market.
Our doors are police approved and meet Secured by Design accreditation, and we also have PAS23/24 accreditations. Incidents such as this make these more than meaningless words or sales patter, and prove that in the unfortunate event your property is attacked, you can rest assured a Global Door composite doors won't let you down.
The customer in question had duly contacted his Insurance company and we were more than happy to go back out and install the replacement door.
Our customer commented:
"We were distraught when we arrived home and saw the damage to the back door, a truly horrible thing to see when you are returning from a break away. I must say though that I was very impressed the door had kept them out, it had obviously had quite some force put behind it to damage the frame so badly. Global Door were excellent afterwards and came out to survey the door the next day after I called them. The door was fitted the next week which is an unbeatable level of service. Thank you once again."
Hopefully this scenario will never happen to you, but but it is always worth remembering that when family members and possesions can be so easily put at risk, a high security door is invaluable.