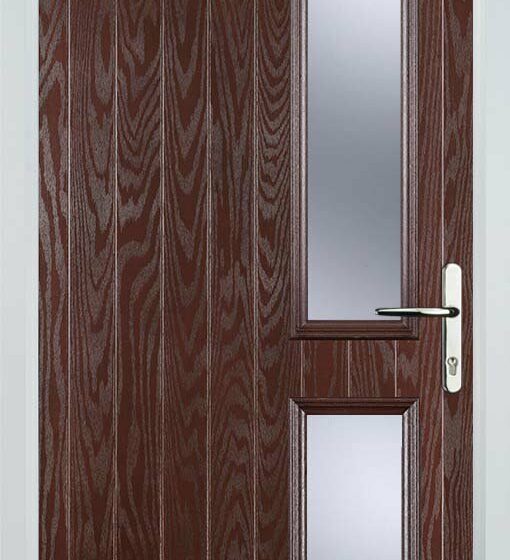 Modern living dictates modern styles, a statement which also applies when considering doors. For generations the typical "Englishman's home has been his castle" and the castle to which most of us  have aspired to has been a modest home of our own, with its own front door and a little bit of land for privacy purposes
With the resurgence of such properties as barn conversions, apartment and loft apartments often the more traditional patterns of doors do not fit with the "modern" living which requires a slick "Hi-tech" appearance. Developers of new builds both domestic and commercial, often choose contemporary door styles to enhance their developments, providing a quality finish which is both aesthetically pleasing and enhances the value.
Click on any of these designs to see what we offer in that particular contemporary door range:
[fourcol_one]
[/fourcol_one] [fourcol_one]
[/fourcol_one] [fourcol_one]
[/fourcol_one] [fourcol_one_last]
[/fourcol_one_last]
Entrance doors are the main focal point to any home or building's exterior, so, ensuring that the design and style suits its architecture is really important. The front door is one of the first design elements that guests see when arriving at home or office and it should be inviting pleasing in appearance and  match the properties exterior whilst still fulfilling its primary functions of providing security and being, durable and weather resistant.
A door is defined as an entry means that incorporates a locking mechanism and hinges, but what is a modern or contemporary front door is it modern or contemporary in its construction, or, should it be the style which dictates whether it is defined in this manner.
Style is timeless, classical appearance improves with age , today's contemporary door with the changes that make it look different in appearance will evolve into tomorrow's classic, meanwhile  the operating functions will undoubtedly continue to improve but their primary functions remain constant.
In the majority of instances, that which is considered modern or contemporary when describing a door is defined by –
The face finish -vertical grooved matchboard is currently very popular as are matt coloured flush faced doors all of which appear more dramatic with the careful use of glazing and down lighting.
The glazing – the size, the shape and the number of the external glazed panels, the use of coloured and patterned glass and more significantly the locations on the door face.
The hardware – which is invariably bold or brash and futuristic in appearance, with large expanses of brushed or anodised metal forming the back plates to the fitments.

Our most popular Contemporary composite door designs