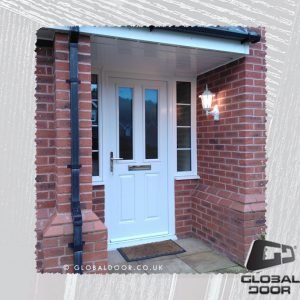 White front doors aren't they brilliant
The fenestration industry owes a great deal to the invention and subsequent use of UPVC, there rarely can have been a product which has so greatly changed the development of an industry. Pre UPVC all doors and windows were made from natural timbers but with new and ever improving techniques UPVC has gradually taken over as the market leader. One of the draw backs of UPVC was the limited range of colours available if you wanted a new UPVC front door the primary colour on offer was a white and the early examples were prone to fading.
There is now a range of doors – Composite doors that offers much, much more colours, more styles and just as durable as the original timber doors. Composite doors can have either a timber or a compressed polyurethane core and both have bonded external coatings and either core gives thermal and sound insulation qualities that are at least as good as and frequently superior to an equivalent timber door.
The GFD Group can offer both types of door through our Global Door web site where we offer Doorstop doors with either core type doors which are thicker in dimension, stronger and more durable than any comparable UPVC door. These doors are available in twenty one styles and ten colours and that applies to the frame as well – our favourite here at GFD HQ – white –
The beauty of a white front door is that it always makes the entry to any property look clean and bright, but, whereas timber doors need regular maintenance (painting) to retain their colour and UPVC has a tendency to discolour with time, a white front door from Global simply needs a regular wipe with a damp cloth to retain its brilliance.
Global front doors are always of excellent quality and meet all relevant standards, "Secured by Design" and "PAS 23 & 24"and we can also provide an excellent installation service at least that is what our customers tell us in their independent reviews on TRUST PILOT
Try our door designer for yourself have a look at the Global range of door styles, use the design option to find the door pattern of your choice and try the colour bar to provide the details of your preferred colour – white always looks good – add some hardware gold, chrome or black When you are sure of your choice of front door even if it is not white you will be amazed at how a new Global Door will enhance the appearance of your property.
Show your brilliance and select a brilliant white front door from Global door as the door of choice for the entry to your home.