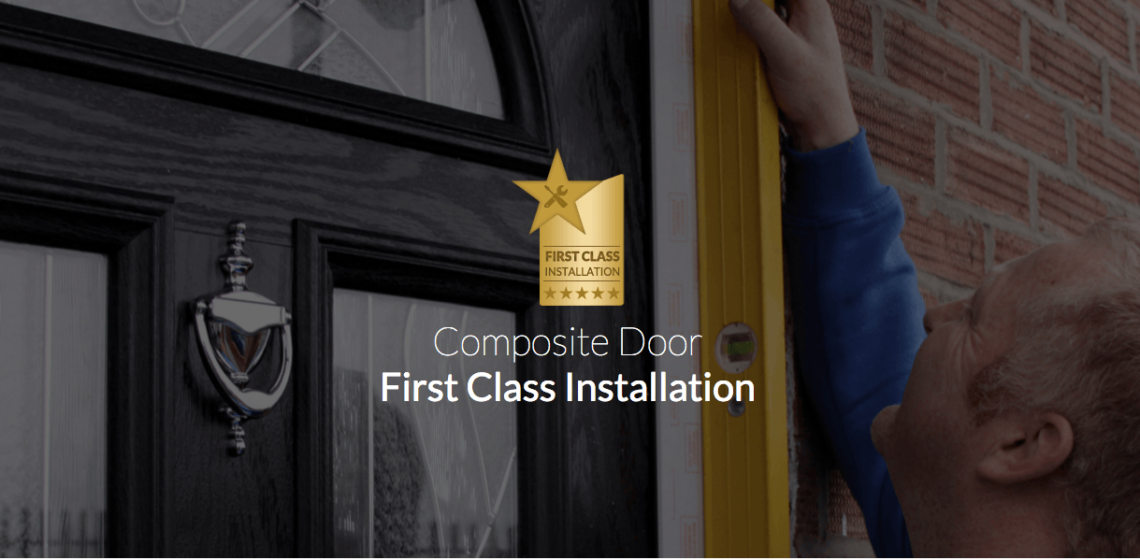 First Class Installation
Selecting your perfect new front door is never easy with all of the options currently available to the customer, once you have decided upon your choice there is still one very important decision to make, who is going to install your door. The correct installation of any door will not only guarantee that it will look good but more importantly it can save all the heartache that a badly installed door complete with all its problems can bring.
Anyone who buys a door from Global Door and chooses to use our services for installation benefits from the superb installation service offered to all GFD Group customers. The GFD Group which comprises
And a new addition to the group
Eurosecure ltd – in case it's just your locks you need replacing
have been successfully installing doors for over seven years and that amounts to over 2500 doors so we know that something is working correctly.
When our customers choose doors as stunning as this 4 square door in black with long bar hardware and finesse glazing both they and a door as superb as this deserve quality installation to maximise its stylish appearance.
GFD are a company who learns from there errors, in the very early days all of our local installations in the NE of England were carried out by known and trusted installers, however as our service is Nationwide for the remainder of the UK we had to rely on installers who came by recommendation and whom we ourselves vetted. The principle was good but the outcome was not, GFD insist upon a high standard of installation and there were times when we were disappointed by our own choice of installers.
In order to offer installation throughout the UK requires a company with the depots, network and administrative capabilities to support this service and that is why GFD Group companies now have a partnership arrangement with a nationally known installation company who operate nationwide, are massively experienced and authorised service providers to the Insurance market. Between our respective companies we have forged that which we call our 1st Class Installation Service a service which comprises automatic computer driven processes that minimise the chance of error, if it works for us it works for you the customer, ensuring that you get the installation service you want and deserve. An installation service that includes all of the following-
Dimension checking – customers do not have to worry about errors in dimensions, within 48 hrs of receipt of your order a member of our survey team will contact you visit and verify all dimensions and check out and any other technical issues which may concern you. Only after we know your sizes are correct do we instruct the manufacture of your door
Multiple on site checking – when our installers turn up on your door step they check and double check all sizes parts etc and no strip out of your existing door takes place without this check.
Installers that care – all of our installers have clear instructions to treat our customer's property with the respect; we know how upsetting it can be to have tradesmen in your home which is why we want to carry out your installation as quickly and efficiently as we can.
Return visits not an issue – As all of our installations are guaranteed for five years if you should have a problem during this period we will come back and rectify it, provided it is not as a result of wilful damage.
Peace of mind – DGCOS cover as standard on all our installations, check out the benefits on the web site, but basically if something goes wrong you the customer have an independent body to mediate for any problems that may occur.
Testimonials – not part of your installation but we would recommend that you read the independent TRUST PILOT testimonials that appear on our group web sites. GFD have no control over these testimonials they are independently sourced by Trust Pilot directly from our customers so what you see is a true appraisal of our performance
Quality installation does count and our 1st class Installation is the very best of quality installation so you can be sure that when you choose the Global Door 1st class service quality installation is guaranteed not just in for the period of your five year guarantee but for the lifetime of your new Global Door front door.