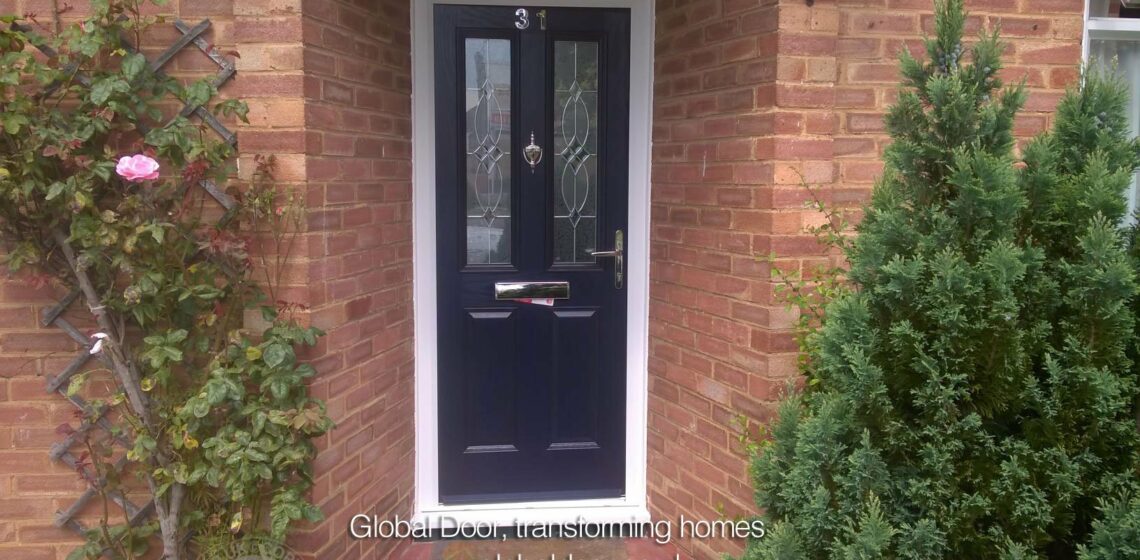 A front door like this – a simple means of entering or exiting a property how can it be complicated?
The answer is choice! Front doors come in many shapes sizes materials and colours – the more choices the harder it is to decide because we all have differing priorities.
Somewhere to meet and greet, something to keep you and your family safe and secure, something with style that will enhance your property
Doors are our business here at the GFD Group – and Front doors are our speciality we have operated a number of successful on line web sales outlets for a number of years – Global door is our longest operating outlet well tried and tested by our customers so that you can be sure that if you buy your new front door from us we have the experience and "know how" to provide you with the product and service that will stand all the tests that time and the very worst that the weather can throw at it
We consider it our mission to make the choosing of your new front door as simple as possible by providing all potential customers with a user-friendly web site – no middle men to influence your decision a door that comes from manufacture to your door, no sitting in a warehouse with all the potential for damage and ageing old stock – you order and only then do we manufacture. We take the worry out of choosing because we have taken the time to select the correct product for you and thereafter all of your transactions with us will be automated through our web site where everything is explained in a "step by step" format, or, if you need that extra bit of assistance one of our "in house" (we do not use call centres) trained sales administrators is awaiting your call.
Choosing could not be easier – when you visit our web site, after you have checked out all of the glossy images simply click "Quick Quote" on the drop down menu and let the adventure begin – twenty seven styles – fourteen traditional and seven contemporary and six cottage- available in thirteen external colours with a multitude of complimentary hardware and glazing accessories – there is something for everyone in this range to see details of all of the styles and colours check out the Door Styles page of our web site where you will find both photographs of doors in both brochure display and real installed locations
You make the choice -the door, the colour, the glass and the accessories all from the comfort of your home, no third party disinterested sales persons – no worrying about installation or finance – we take care of it all and it's there on the web site for you to choose – as an added comfort just in case your concerned about taking measurements, we will not commence the manufacture of your door until one of our survey team has visited your home and checked out all of the dimensions.
If your new door looks good it makes you feel good – and here at Global Door we have not forgotten that there is an additional item for which all of our customers look for reassurance.
The item in question is security – security of family and belongings which means good locks and solid construction.
There are locking systems and there are locking systems many of which promise but fail to deliver the security our customers require, check out our "Security" page to discover all the facts – we do not ask you to choose locking systems we have already chosen the very best – Security is guaranteed with a Global Door front door with multi-point locking systems and the award winning "Ultion" lock as standard both of which are "Secured by Design " accredited (the UK Police and Insurance Company sponsored initiative to ensure safer homes)
The choice of locks is clearly important but they are of little use if your door is not of solid construction all of our doors are compliant with the rigorous testing standards of PAS 23/24 which ensures that they are durable and weather proof. The strength of our doors comes from the method by which they are manufactured – they are "composite doors" which – as the name suggests means they are made from a number of varying materials all put together in a quality controlled factory environment a reinforced frame and the bonding of core and cladding provide a high level of strength, safety and security and extremely good thermal efficiency. The thermal efficiency is enhanced by the fact that the door and frames are precision engineered as a single unit in the factory – so when they are delivered and installed you are always guaranteed a perfect draught free fit.
Our range covers all the options of style, traditional period doors ultra-contemporary or a door to grace your historic country cottage- we have a door for you and we offer all the options to allow you to personalise your front door's appearance – beautiful doors, wonderful styles, rich and subtle colours – our doors blend into any surrounding.
If installation is a concern that's another example of where we take the strain, we install anywhere throughout the UK – an installation service that is tried and tested if we believe (and we do) the independent comments our customers post on Trust Pilot
When you make the right choice, and select a door from Global Door not only will you create a great initial impression for you your family, friends and neighbours but you will have purchased a door that is so good that in twenty plus years it will still be creating a lasting impression.