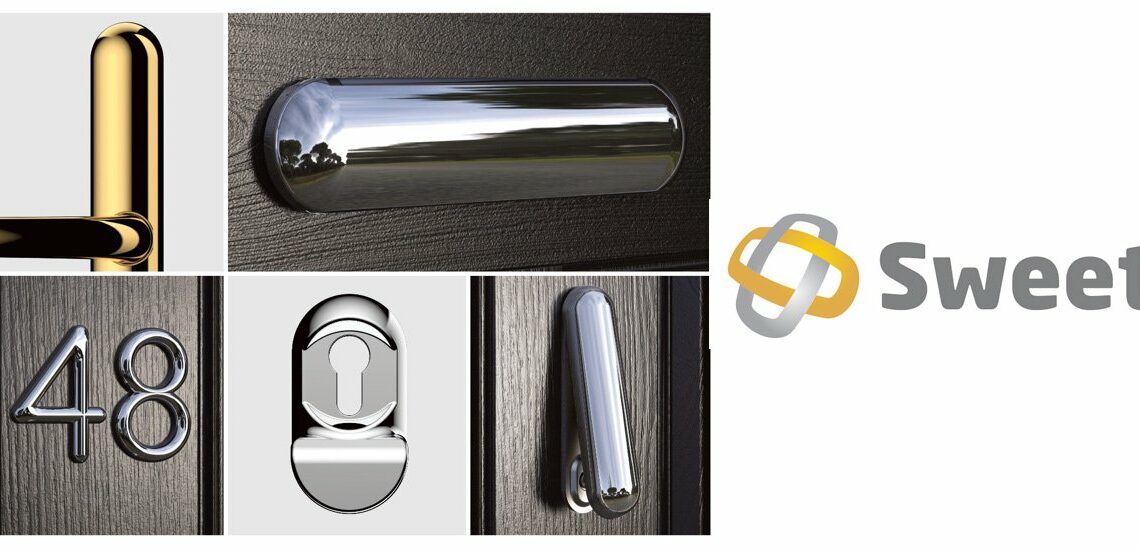 Sweet not Suite is the name of our new stunning hardware collection
and it is available as one of your many optional choices when you order your new Composite front door from Global Door
the Global Door range of hardware/ accessories has just taken a massive step forward when it comes to style and elegance with the arrival of our new Sweet range. The Sweet Collection comes from the same manufacturer as the superbly successful and seriously secure Ultion lock – the lock that is universally accepted as the most secure available to the domestic market. The Sweet Collection may be new but it is manufactured to the same high standards as the Ultion therefore quality is guaranteed.
For too long when customers have requested "suited door furniture" it has meant little more than handles letterplates etc in matching colours and mismatched designs but the revolutionary design of the Sweet Collection is about to change the concept forever.
The Sweet Collection is a fully integrated door furniture system, that's all wrapped up in a beautiful design and so it not only looks sensational but offers unrivalled longevity and security.
The first member of the Sweet collection the "Lock-Lock" (it's not a mistake – that's what it is called) has been available from both Global and our sister company Eurosecure for some twelve months and its introduction was featured in our blog Lock-Lock something new in the world of keyless locks the whole of the new Sweet Collection which comprises , handle, knocker, letterplate, escutcheon and numerals, shares the same registered curved design ethos and longevity with Lock-Lock, revolutionary security door handle. All the component parts of the Collection are genuinely co-ordinated in both their beautifully curved graceful lines so they look like they were meant to be together which is enhanced by all components being available in a choice of five colours –
so when you ask for the Sweet collection it truly is suited.
The quality of the Sweet Collection is based upon the same specification as Lock-Lock, which boasts 8,000+ hours in a salt spray chamber, 34 times longer than the 240-hour accreditation requirement and eight times that claimed by stainless steel systems, which means, the Sweet Collection 10-year -direct to consumer – anti-corrosion warranty means what it says – the product is has a guaranteed expectation of life-span, rather than a manufacturer replacement of defective parts for a ten year period.
When we say they look superbly stylish your new front door will (with minimum maintenance of a wipe with a damp cloth) look from the day you install it until at least its tenth birthday it is hardly surprising when the individual components look as good as these –
Knocker and numerals
They look good as Individual items, but put them all together and they look sensational
Watch this space and be one of the first to benefit from this latest addition to the Global Door range of products.
as not only the ultimate high security upgrade, but as a suited high security upgrade. Collectively, this will provide unique sales opportunities for our customers in the entrance door market, without the worry of pitting hardware and excessive call backs.'