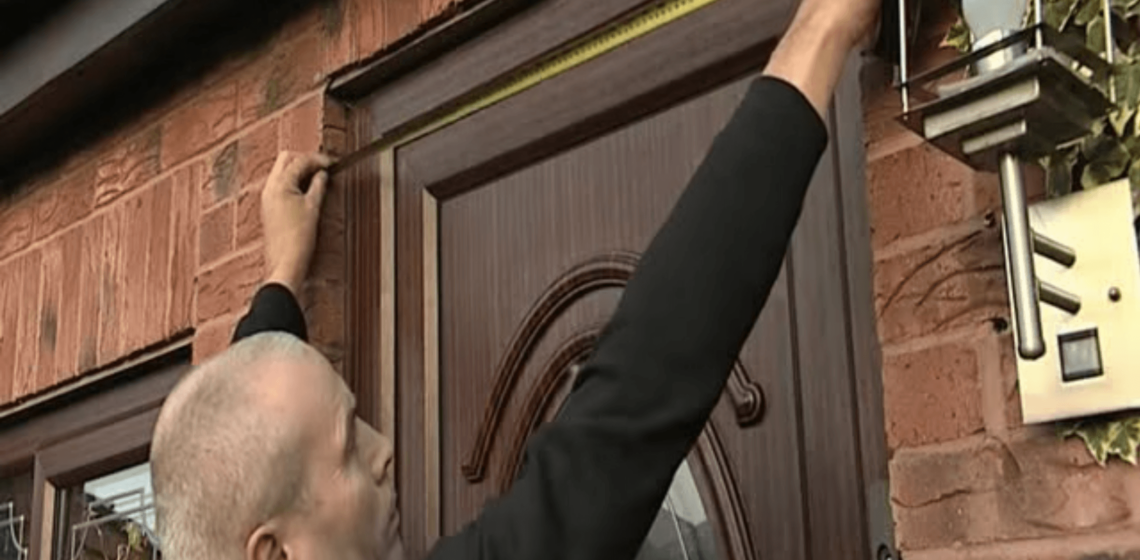 When a door looks as good as the one above it not only makes your home into a warm retreat from the worries of the world it will both draw admiring glances from friends and neighbours and it mat just add a little more value to your home.
So, you have decided that you want a new Composite Front Door – where do you begin – one of our most frequently asked questions is a good starting point,
How do I measure for a Composite Door?
The answer if you are an expert DIY professional and intend to install the door yourself is – take a look at your existing brickwork opening and then take the following measurements
Width: Measure in 3 points; top, middle and bottom and take the smallest measurement and deduct 10mm.
Height: Measure again in 3 points; left, centre and right and take the smallest measurement and deduct 10mm.
Diagonals: Ensure the opening is square by measuring the diagonals as shown in yellow.
If followed correctly this will allow your new door frame to fit your existing opening with a tolerance that will allow some manoeuvrability and still be tight enough to the brickwork for a solid fix
However, if you are one of the majority of our customers who asks that we at Global Door install your door for you, and we can do this throughout the UK – you can forget all of the above and start straight off with the fun bit – designing your new dream door using our door designer – we take away the worries of ensuring the dimensions are correct – that's our problem – once you have decided to purchase the door of your dreams and have placed your order, one of our surveyors will (normally within 24-72 ours of order placement) contact you visit your premises take all the required dimensions and check out if there are any technical difficulties that could hamper your door installation and advise you accordingly of what is required. Thereafter you sit back relax and wait our call advising delivery – normally it takes no more than a working day and as a precaution all of our teams are instructed to "double check" all dimensions before any removal of your existing door takes place. Our installation Service is called "First Class" for one very good reason and that is because it is "First Class" as so many of our happy customers have testified in their TRUST PILOT reviews
Global door has been trading installing quality Composite Doors for over ten years so we have the experience and know to succeed where others may fail in installing the most technically challenging of doors.
Our advice – forget the measurements leave it to our "First Class" installation service to get the job done.