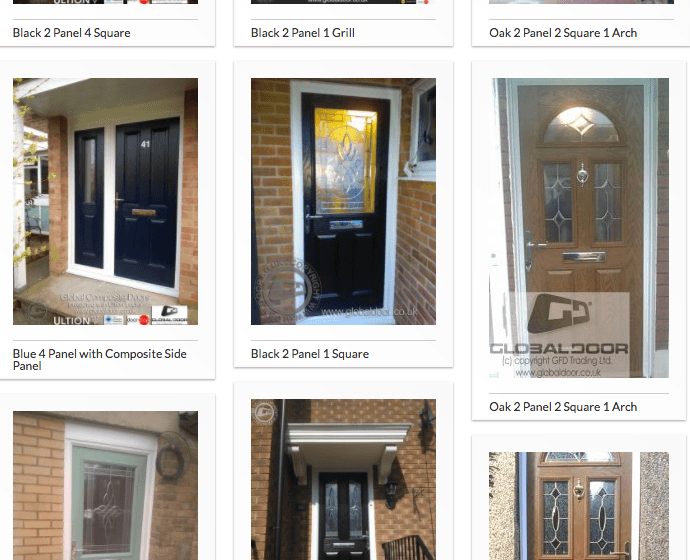 Composite door designs; how many do you want to choose from?
Take for instance these four door and side screens – we picked doors with side screens to show the versatility of" composite" construction – all of these images have been taken from our "gallery" page of actual installations carried out by Global Door – the styles are different but all of these doors have one thing in common – they are all Composite Doors and these are just four of the twenty-seven styles that comprise the range.
At Global Door, we do not claim to have the biggest range but with twenty-seven different styles traditional from the Victorian and Georgian era, something more contemporary for those looking for a more modern concept or even rural for those with a country persuasion and they are all available in a choice of thirteen different colours (some with an option of a timber grained) we have something for every taste add in the glazing and hardware options and you can personalise your door just the way you want it.
How can one method of door construction provide so many options -the secret in the choice of materials and modern factory techniques which are capable of re producing "same every time" controls over the door assembly. Every Global door is manufactured using modern techniques in a quality controlled environment-
The process starts with –
Picking the chosen door template
take a slab of rigid polyurethane foam core (a slab with superb thermal and acoustic insulation qualities – machine cut the slab to match any door profile choose for which the template has been chosen
add a hardwood frame for reinforcement and enhanced rigidity
take two sheets of 2mm thick through coloured GRP cladding and machine cut them to match the profile of the rigid polyurethane foam core
assemble all four components, clamp, bond and press under high pressure
and a new composite door is born – a door which does not warp, twist or bow and which requires the minimum of maintenance.
If the door requires glazing select the template size – the pattern and backing glass, the thermal break glazing bars and assemble into a glazing cassette which will fit easily into the manufactured door.
During the cutting and bonding process the door is routed for the multipoint locking system, locks and hinges,
In parallel with the door manufacture the components of the frame and cill are cut, reinforced and welded to form the pre-engineered frame into which the door will site
Take one frame, one door, any glazing cassettes, glazing bars, drip moulds, draughtproof insulating tapes and gaskets, multipoint locking system, and assemble into a door set unit
Although every construction step is carefully quality control monitored a final check of everything required proceeds the packaging.
Assemble any components that require fixing at site "The ULTION" -the lock currently considered the strongest and safest available for domestic use – and any handles letterplates etc complete with complimentary screws.
Apply protective cardboard corners and shrink wrap as a complete unit ready for transit
And the process ends with delivery to the customer
That takes care of just one door and Global Door deliver and install a thousand plus every year every one bespoke to the individual choice of our customer because when you visit our web site you are invited to use our "door designer" to create the door you want – simply follow the "Quick quote" directions in the Home page drop down menu and start designing.
Composite Door construction techniques offer you the unique opportunity to invest in a door that looks like but performs better than classic timber Victorian / Edwardian or Georgian pattern doors plus as it is the core that is key to their construction they can equally be modelled to be modern timber boarded pattern doors with feature glazed panels, all you have to do is choose that which suits your requirements.
The photographic installations at the head of the page highlight a further unique quality of the construction technique – if we can manufacture a door, we can equally manufacture a matching side panel – so if you have a side panel and you are looking for a little bit more privacy than a glazed panel provides, simply add a matching composite side panel to your design.
At Global Door we know that it is the little things that can set your door aside from the rest – the choice of glazing – we offer a multitude of compatible options and leave you to make the choice , similarly with hardware choose from a selection that will enhance any door in a choice of styles and with three colour options, chrome gold and black with s many choices, style, colour, glazing, hardware – the decisions may be harder than you first imagined..
The days of choosing your new front door from an endless list of brochure photographs are a thing of the past– visit the Global Door web site pick your frame, pick your door style, pick your colours, pick you glass, pick your accessories all beautifully portrayed as photographs or graphics – when doors are this good there is no need to hurry – we want you to get the door that you want.
If you choose the Global Door Installation you do not even need to know your exact dimensions if you have any such problems as part of the service when our Surveyor calls to confirm that there are no installation issues/ problems, he will check all dimensions to ensure a perfect fit before we commence manufacture of your door.
When you have finished designing your new Composite front door your fully surveyed and installed price will be there on the final page, they are all your choices, go ahead be our guest you can be your own designer for as many attempts as you may need to try before you make your final decision- with doors this good we know you deserve the time to get it just right.