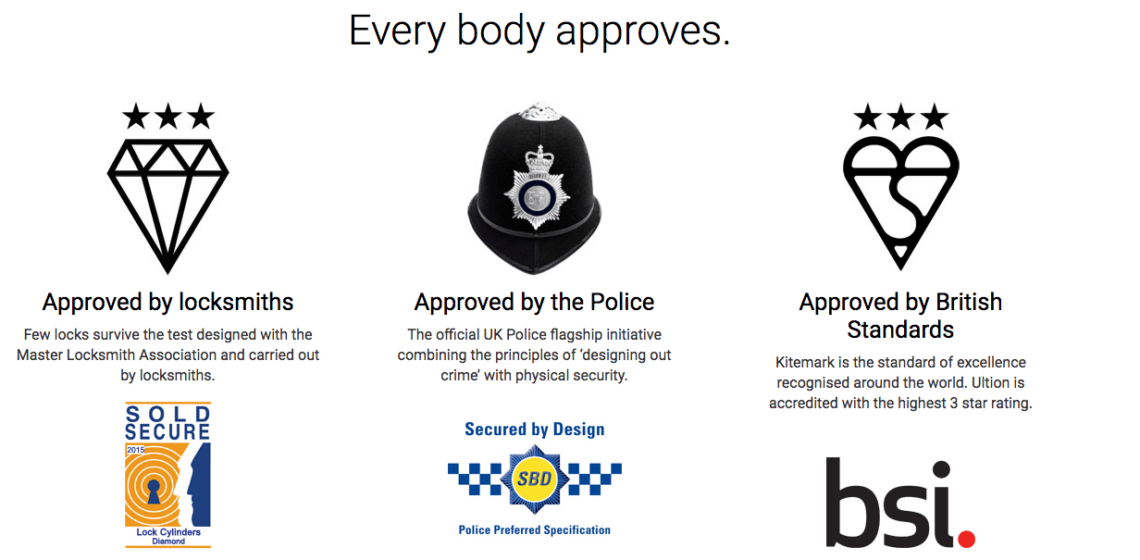 Front door locks -Global Door do not take them for granted
As with most things in life, change happens and products evolve – from the very beginnings of Global Door we have always endeavoured to provide our customers with quality products incorporating the latest in technological developments – our original doors were very very good but with the introduction of the Ultion lock as standard they have taken a further step along the way to the perfect front door.
The Ultion lock when combined with our multi-point locking system provides the sort of security that we could only dream about for domestic premises a dozen or so years ago – the "sold secure" logo that accompanies every Ultion lock is not just for show – it is there to show just how different this lock is from the competition and highlight the degree of testing it has undergone to achieve this standard – the table below illustrates what is required to achieve the "Three star Sold Secure" standard
The Ultion is different in so many ways not least – because each key is individually computer coded to match its eleven pin action conventional key cutting machines cannot accommodate this requirement so it is very difficult to copy – it has some pretty unique features with its key fobs – it's not just a pretty coloured capping accessory it can also be a "tracking" option for lost keys
At Global Door we consider it as part of our duty to our customers to advise them of potential risks particularly as 70% of break ins occur through the front door and the weakest part of any front door is generally considered to be the door cylinder in order to review these potential risks we would suggest that our "Security" page should be compulsory reading for all of our potential customers.
A new front door is a substantial purchase for most people and when the doors are as excellent a quality as this Black 2 panel 1 square why would we not fit the very best of locking systems to give our customers the peace of mind they would expect.
Every Global Door is supplied with three keys if this is insufficient for your requirements – Global Door have a sister company Eurosecure (also part of the GFD Group) who sell locks and accessories on line they have the knowledge and the capability to provide you with as many spare keys as you could ever require and obtaining them is simple – log into the Eurosecure web site navigate to the key cutting centre page– follow the simple instructions all you need is your "key code number" tell us how many keys you need request your quote and within a couple of days of your acceptance your new keys will be with you.
At Global Door we pride ourselves on selling a product that is the real deal a quality door range with masses of choice of style, colours and glazing and hardware options and most importantly – a superb locking system.