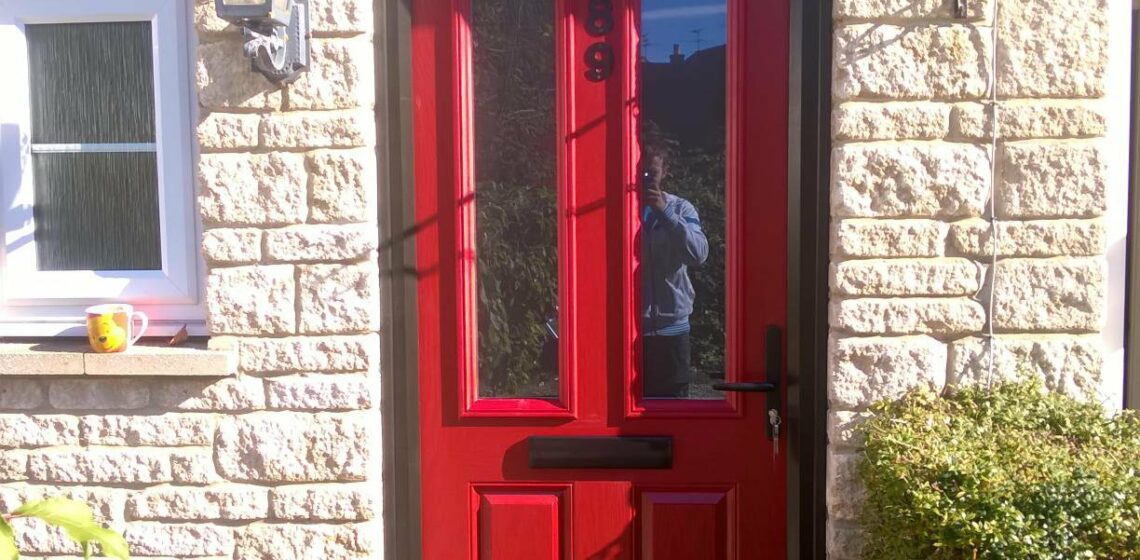 Front doors UK,
Front doors UK, maybe that's a name change we should be considering here at Global Door – the Global aspect of our name is possibly a little ambitious – in our ten years of trading we have sold tens of thousands of doors throughout the UK but only a handful elsewhere in Europe and although we continue to widen our net and constantly update our product and service the numbers of doors sold outside the UK seems pretty static.
We have even made sure that all of the photographs on our gallery page are endorsed with our Global Door logo (just like the one above) so anyone viewing from outside the UK can be in no doubt of our dreams of expansion of sales into faraway places outside the UK
However, we are realists here at GFD HQ – home of Global Door and we know that the worlds loss is a big plus for all of our UK customers – because rather than having to fragment our service and cater for such things as translations and the logistics of overseas deliveries we can engage all of our efforts in providing our customers with the very best of service. It only takes a very quick look at our web site https://www.globaldoor.co.uk – that UK reference again – just to see what we mean –
Lots of styles, lots of colours and lots of glazing and hardware options is pretty much what anyone would expect from a credible supplier – but our web site offers so much more – starting from the beginning –
You want a door but you are not sure what you want – our "About the Door" drop down menu on the home page has all the answers – click it once and we guide you to individual pages covering –
Door Security – videos and statistics highlighting "how to be prepared" for any unwanted visitors
Ultion Security – the superb lock used on all of our doors – recognised as the safest domestic lock currently available
Door features – the specification bits
Hardware and accessories – what you need what you might like it and why you should choose it
First Class Installation service – we take all the pain the customers get the gain – we install throughout the UK, using a company with whom we have a long term contractual agreement to ensure the same excellent service every time – and that includes our surveyor checking your dimensions and any construction problems before we even put your new door in manufacture. As a further point of reassurance when we attend to fit your door all of our fitters have been instructed to measure and double check all sizes to ensure that your new door will fit perfectly before your existing door and frame is removed.
DIY and delivery – we deliver you install and we provide links to guides and videos to assist in this task
Gallery – the previously mentioned thousands of actual installation photographs.
All of the above is covered by one drop down menu take a look at the "here to help" drop down and you will find much more –
Consumer Protection – all you need to know – if you are unaware of your rights we tell you what you need to know and what we do to protect those rights.
Brochure request – just in case our web site does not provide everything you need
TrustPlot reviews – the all-important what our customers say about us. Trust Pilot are an independent company from ourselves and we have neither control or influence over what they publish.
Frequently asked questions – whatever you are thinking someone has probably already asked us and we have responded.
Finance – we want to help you buy our doors so we offer a 0% finance using the services of Barclays
You do not have to look very far on the drop-down banner of our home page, or pretty much any other page on our website to find a reference to "Quick Quote" this is our door designer page" you design the door you want, style colour, glass, hardware everything in fact, we quote you the price and if you like it you simply have to proceed to "press the purchase" button and the road to your new front door has begun.
WE are biased at GFD HQ by we reckon that you will struggle to find a better service than that provided by Global door anywhere else in the UK.
Every Global composite door(whatever the style you choose) is manufactured to exacting factory standards and must comply with stringent quality control criteria and it will comprise –
a reinforced hardwood frame
a solid thermally insulated polyurethane foam core slab
a 2mm thick durable GRP through coloured skin to prevent warp, twist bow etc
a thickness of 44mm which adds to the strength and creates a strong secure door.
That thickness of 44mm gives it a strength and durability the equivalent of any timber door, Global Door do not expect you to take our word for it so we have sought the appropriate accreditations to back our claims all our doors are accredited to both "Secured by design" and PAS 23 &24 which involves independent testing by third parties
Whether you want a supplied and delivered or fully installed service the quality of the door will not vary in standard and with a 2mm thick through coloured GRP cladding each side you have the additional benefit of knowing the only maintenance required is a wipe with a damp cloth.
When doors look, this good and can be delivered and installed anywhere throughout the UK why are you waiting
Oak 2 panel 2 square 1 arch with sidelight
Red 2 Panel 2 Square
Both photographs are taken straight from our Gallery page