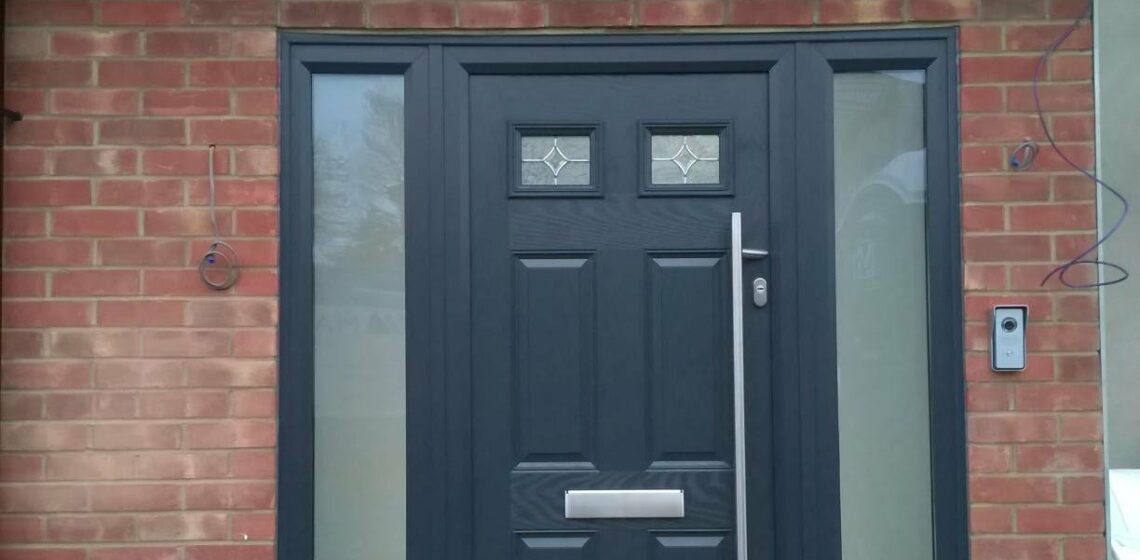 New Front door?
It has served you well and the decision to change has not been easy, but over recent months it has started to look a little tired and you cannot face the trauma of agreeing a new colour let alone carrying out the work involved in a re-paint, that pane of cracked glass should have been replaced months ago, it swells and sticks in the winter months and the locks are now just a little difficult – how many more reasons do you need to change your old wooden front door for a new composite door.
At Global Door we appreciate that there are an awful lot of new doors out there in DIY stores and Hypermarket showrooms and even those who compete with ourselves with online offerings and we realise the choice is difficult – the DIY and Hypermarket options entail doing something many of us dislike – travelling to a shop, listening to a salesperson who may or may not know what they are talking about – not the preferred option. The benefit of shopping online is already known to the majority of us – not having to leave home simply logging into a web site and following that which are normally quite simple and easy instructions. When you visit a really good online door sales site – like for instance Global Door you will find not just the pretty pictures but loads of the technical things you need to know – not only about the door – but also our excellent installation service, our very acceptable 0% finance deals (for those who qualify) and all the guarantees and insurances and consumer protection information all laid out in easy to read format. What web site would be complete without "the reviews" and we at Global Door can say with some pride that our TRUST PILOT reviews are pretty good
Maybe when it comes to picking that new front door you should let Global Door do the bulk of the work, our website already has rather a lot of options –
eight options of door frame which come in a choice of seven colours
twenty-one door styles thirteen traditional and eight contemporary styles which come in a range of thirteen colours.
forty plus glass styles including coloured and leaded
numerous accessories in choice of style and colour
Our door designer which is accessed through the "quick quote" drop down banner on our Home page allows you to design a door that will suit all of your requirements, what could be easier, all you have to do is visit our web site and make your choice. Our prices are always competitive and they include installation and as we wish to be as transparent as we can be in our relationships with all of our customers, the price you see on the screen as YOU design YOUR door will be the price that you pay, there are no hidden extras with Global door. As far as is possible we ensure that the whole purchase experience is as automated as possible so you will receive "emails confirming your order arranging your installation etc.
Every Global door is manufactured to exacting factory standards and must comply with stringent quality control criteria and it will comprise –
a reinforced hardwood frame
a solid thermally insulated polyurethane foam core slab
a 2mm thick durable GRP through coloured skin to prevent warp, twist bow etc, it will not fade or rot and the only maintenance required is a wipe with a damp cloth.
a thickness of 44mm which adds to the strength and creates a strong secure door.
In addition to the stringent quality control involved in the manufacture we provide samples of doors for third party testing for strength and durability in order to achieve" Secured by Design" (the one approved by the Police and most Insurance companies) and PAS 24 (the one that requires that the door is solid and durable in construction and able to withstand the wear and tear of everyday use)
If you are not DIY inclined the installation of your new front door is best left to the experts and it's all part of the, Global Door service – when you choose us to install your door we provide you with a five-year guarantee. In order to be able to guarantee the consistency of our installation we have a partnership arrangement with a nationally known installation company who operate from depots throughout the UK they are massively experienced and authorised service providers to the Insurance market, which means between us we can supply and install doors anywhere throughout the UK.
It's not just Global who guarantee your door installation, we have you covered through the GGFI the insurance arm of the Glass and Glazing Federation – every door purchased from Global Door is covered for both –
Insurance backed warranty that honours your guarantees in the event that we cease trading
Plus, lots more visit the Consumer Protection page of the web site to find out more about         the comprehensive level of cover that comes free with a new front door.
The customer is even covered for the very rare occasions that something could go wrong with the product or installation customers have the additional assurance that they have the benefit of The Glazing Arbitration Scheme to assist in the resolution of any problems.
Maybe the thought of buying a new front door is now not quite so daunting why not join the thousands of happy customers who have purchased their new front door from Global Door. When it comes to new front doors for you and you and you Global door are committed to making all of our many customers as happy and content that the door they have chosen for themselves is the door that they wanted and which will be the envy of friends and neighbours for years to come.