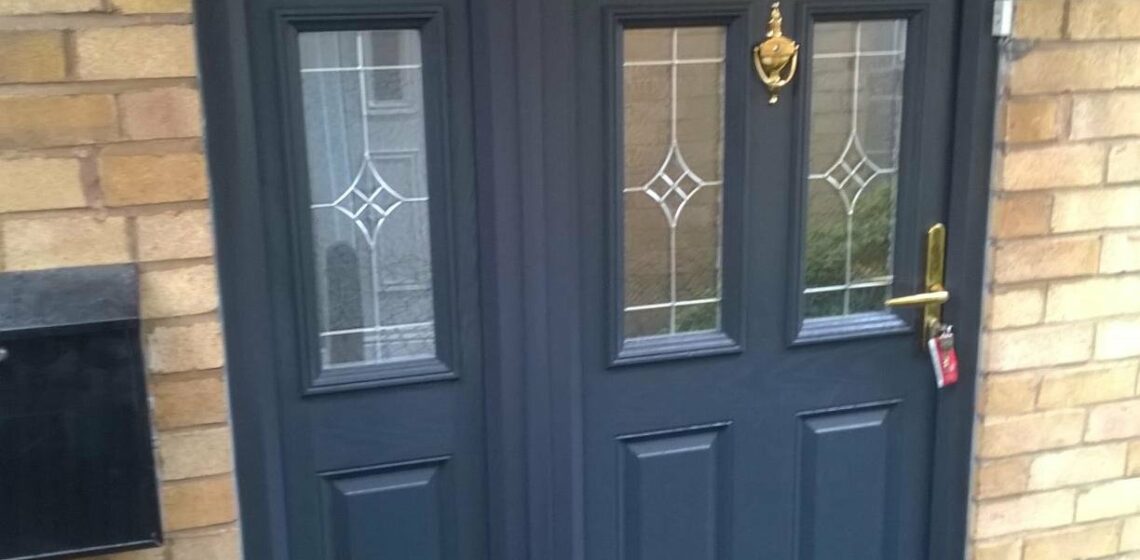 Composite doors and glass side panels
We can almost hear their sighs of relief when we tell our "Installation" customers all that we need is the approximate dimensions and that once an order is placed and normally within 48 hours a member of our survey team will make contact and arrange a visit to check out all dimensions and any other technical issues, this is particularly true for customers who rather than just a single door have a door opening that will incorporate side or overhead panels. At Global Door, we realise that not everyone is as familiar with door openings and sizes of frames etc. as we in our office are, we know that our customers enjoy the idea of and the actual ability to design the door of their choice by using tour "door designer" (because they tell us) but the taking of dimensions and particularly items such as cill choice can quickly become a cause of concern leading to indecision and possibly the frustration of a sale. When our Surveyor calls, he will check the clients dimensions, advise on cill selection, take clients instructions on any side or overhead glazing and confirm what is possible and practical and check out to ensure that there are no construction problems that could frustrate the installation because only when we at Global door are happy that we have everything correct will we commence the manufacture of your new front door and side panels.
When you visit our "comprehensive" and "user friendly" web site we try to make it easy by providing a number of the most popular door and side panel combinations. If the frame design you are looking for is not there or if your side panel is an adjacent window, simply give us a call and tell us the dimensions and style you require and we will provide the quotation you require
As you work your way through our door designer "Step 5" you will come across a screen such as that below where you can choose your side screen options, glazed, composite panels or brickwork (as we have shown in the example)
Once you have chosen your frame side screen we provide you with a range of
twenty plus door styles in traditional and contemporary styles
Thirteen external colours
forty plus glass choices, something for everyone from simple obscures to complex coloured and leaded lights.
a multitude of hardware accessories
When you reach the final screen, we provide you with both an image of your design and an all-inclusive price for your door – using the configuration selected above, your new door side screen and overhead panel could look like the image below.
Doors with side screens or overhead panels provide an additional challenge to your door design – which glass and a point to consider when choosing is that if you can see out, others can see in, so be sure to choose from the obscure or sandblasted ranges if privacy is a priority. Our extensive selection of obscures, sandblasted, coloured, etched and leaded will undoubtedly provide the solution for most customers but if your selection is not within our options – tell us and we will source it or If you are experiencing difficulty in selecting your glass from the web site feel free to ask for a sample of your choice and we will be pleased to provide this at no cost to yourself. All of our glazed units come as "double glazed cassettes" which are easily beaded into doors and frames.
If you are looking for a new front door with glass side or overhead panels, at Global we are sure we will have an option to suit your requirements at a competitive price, take advantage of our full installation service, check out our 0% Finance deals or our Customer protection page to find out more about the service we provide and see what our satisfied clients say, their testimonials are under the" independent Customer reviews" / "Trust Pilot" section of our web site.