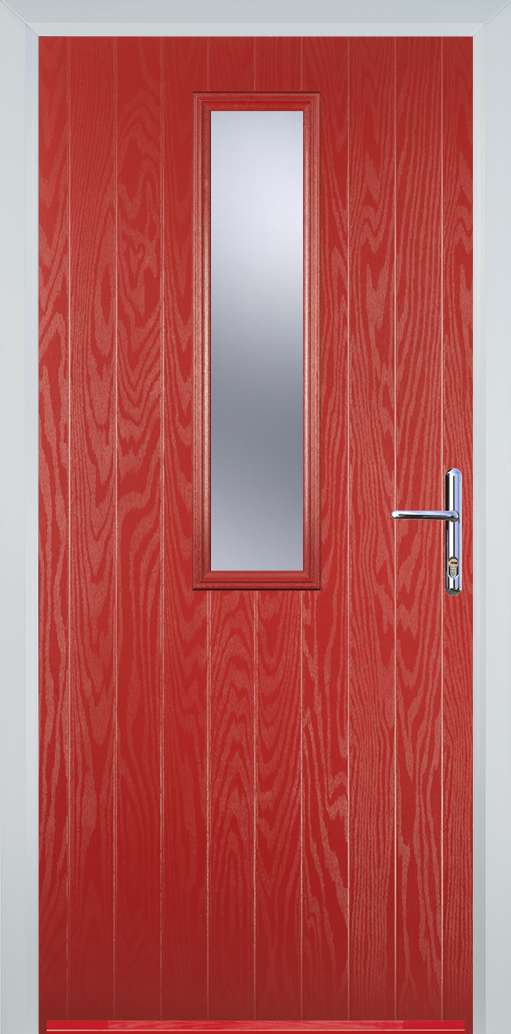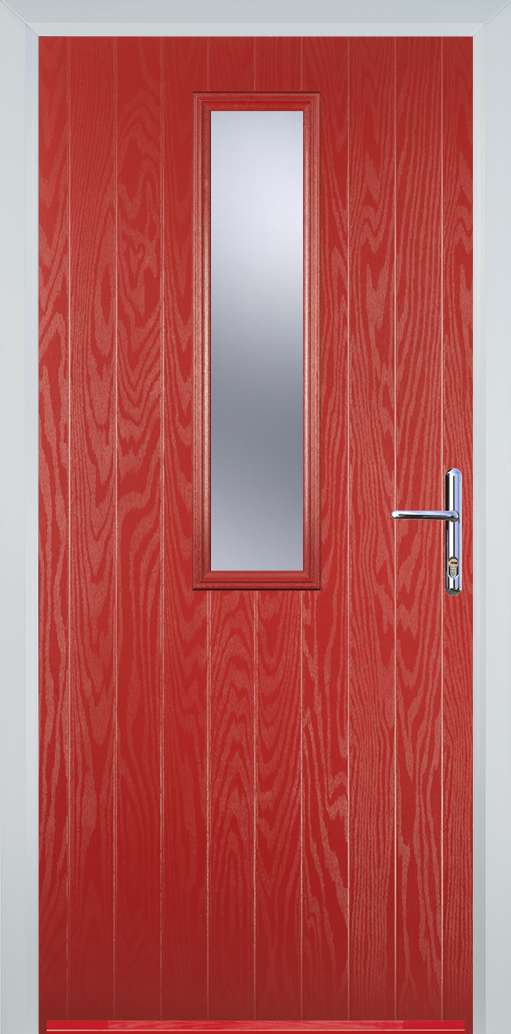 Mid Square (57) Solid Core Door in Red
---
The Mid Square (57) Contemporary Solid in Red from Global Door, with a huge range of designs and colours.
---
Choose Colour
£746.00
Price Inc VAT & free delivery
Design & Price Online
Design & Price Online
With this door you can...
---

Match It

Design It

Have it delivered

Have it installed

Order It

Finance It

Review It

For trade & retail
Questions to ask before you buy new doors
We want you to feel completely confident so before placing an order with us,
we are going to answer questions that you may have.
Buying from an online company worries me – how do I know you are the real deal?
Lets be brutally honest; anybody can build a website and start advertising doors. After seven years successful online trading we have seen imitators come and go, and for a customer innocently searching through the Google search results it can seem like a minefield.
This isn't the time or the place to tell you how great we are; our customer reviews can do that. Instead, here are a few hard facts about Global Door...
Long established, award winning online installation company who have pioneered online ordering within the double glazing industry Nationwide installation service carried out by one of the UK's largest and most well established outfits – we do not use sub contractors! Our installers are Certass registered We have been trading since 2008 and have a huge database of DIY, retail and trade customers We offer the fastest turnaround times of any online company.
Are your reviews genuine?
The answer is yes – our reviews are collected through Trust Pilot; one on the largest and most reputable review platforms currently available.
All reviews good and bad can be viewed immediately, and we have no control over what a customer writes in a review. The fact that most of our reviews are extremely positive is proof of the hard work and dedication we put into every order.
Some customers read reviews of rival companies that seem to have more negative reviews, and then wonder if ours are genuine. We should take it as a compliment really, and we only wish more customers took the time to leave a review!
What areas do you cover?
We offer a nationwide service for both installation and supply only customers. Certain postcode restrictions apply for delivery to the Scottish highlands, click on the delivery tab for more information. We can offer our First Class installation service across the whole UK (including Northern Ireland and the Isle of Wight).
Do you have showrooms?
Who needs showrooms? Our comprehensive online gallery lets you see hundreds of doors in high resolution, and our website will give you every detail you could ever need about the product. We even have a team of composite door experts ready to take your call and answer any questions you have. We have consciously eliminated showrooms and sales reps to keep our overheads to a minimum – this lets us pass on the savings to our customers and offer an exclusive online price.
What do your doors have inside them?
Our doors are comprised internally of a timber sub-frame, and a high density polyurethane foam. Polyurethane makes a perfect base material for the door, as it is strong and thermally efficient.
I have been warned off foam core composite doors and told they aren't as strong as steel or timber core?
There are benefits and also downsides to each of these three materials, and it would be foolish to say one is better than another. Steel is strong but a very poor conductor and as such has poor energy ratings. Timber is a strong material but is still a natural product and can be susceptible to thermal movement. Foam core doors in our opinion are the overall winner, as they offer a strong core with much improved thermal properties.
Are your doors UK made?
Yes – our doors are manufactured in the UK by one of the UK's leading manufacturers. Like any product, there are cheaper versions of foam filled composite doors available, but rest assured our doors are a far cry from the cheap imports from the far East many companies pass off as a high security door.
Are your doors fire rated?
Our standard door range are not fire rated, however we do offer a separate range of FD30 fire rated composite doors. If you live in a flat or apartment, you will need a fire rated door. These are also required for doors that lead from the house to a garage. If you are unsure if you need a fire rated door, check with our team before placing your order.
How many keys do I get?
You will get 3 keys as standard – as we use a high security Ultion cylinder as standard the keys cannot be cut by a locksmith. You will have the option to purchase more keys during your order or you can purchase keys from our sister website euro-secure.com
Can the door be fitted into my existing frame?
No, all of our doors come as complete door-sets which means the outer frame is always supplied.
Can I paint the door?
No and you won't have to, our doors have a durable GRP skin that is colour guaranteed for 10 years.
Where can I get a price?
You can get a price instantly using our online door designer. You can also save your quote and come back to it later.
How do I place an order?
You can order directly on the website by adding your door(s) to the basket and proceeding to the checkout – supply customers can enter all technical information on the website and First class customers can book a survey online with just £60 deposit. If you are struggling at any time or want some help please feel free to give our sales team a call and we can walk though everything with you.
Can I change my order after its placed?
Yes, for First Class customers we will contact you after the survey to confirm the order and make any changes you want to the order as required. Supply customers will only have a very small window to make changes, due to our fast lead times. Please make sure you are happy with everything before sending your order and remember to check your order confirmation! Changes must be made in writing immediately.
Can you help me with some technical details before I order?
Of course, thats what our team are here for! Just give us a call on 0800 56 77 406.
Can you speak to my builder direct before I place the order?
Yes we are happy to do this for you – we want to make sure the details are correct before your order comes through.
Do the doors come in standard sizes?
Our doors are all made to measure, and will be built to the exact measurements you enter on the door designer. The designer will let you know if the size you are trying to enter is out of our range.
Do I get a discount for ordering a second door?
Yes, if you add a second door to the basket you will receive a £100 discount.
Do you offer a finance option?
Yes, click on the finance section below for more details on this.
What are payment terms for DIY orders?
Supply only orders must be paid in full at the time of order (unless you are paying through finance) – you can pay securely online when you place your order. We can also process card payments over the phone, and there is no charge for using a credit card for orders that do not exceed £3000. Payment is due up front because we are supplying a bespoke product. That means the door is made to your exact specification, right down to the millimetre. This is standard practice for bespoke items.
What are payment terms for First Class installation?
If you are not paying through finance, we require a £60 deposit at the time of order and we will then carry out the home survey. The remaining balance will be collected in full after the home survey before the door goes into production. This is again because of the bespoke nature of the product, but also collecting balances at this point ensures we can deliver on our promise of rapid installation times. It is no mean feat to survey, manufacture and install a door in 15 working days, and collecting balances before manufacture ensures we have the means necessary to carry this out.
What happens if I have a problem and you have my money?
Let's say for example your door installation has just been carried out but you have an issue… Perhaps you are not happy with an aspect of the fit, or something is not quite as ordered on the door itself. We've collected the remaining balance, which means you'll have a nightmare getting issues rectified, right? Not a chance! Here's why…
We are legally obliged to carry out the installation to an acceptable standard, and provide goods as ordered and fit for purpose. (The sales of goods act is a tough read, but it does have you covered)
Every installation is registered with the DGCOS, who offer payment protection and even an ombudsman service if required. The DGCOS offer complete protection for consumers, and it is your right to seek assistance from them if you feel it is necessary.
It is our company policy that no installation is marked as completed until the customer has signed a 'satisfaction note'. If there are outstanding issues on the day of the install, these will be put right before we consider the job closed.
You have a 10-year guarantee on the door and a 5-year guarantee on the installation works. Put simply if you have an issue, we are again legally obliged to rectify it and will do so immediately.
We do not charge for the use of credit cards, and encourage this method of payment to ensure your payments are protected.
In truth, problems are a rarity and we never leave a customer dissatisfied. Compared to the national double-glazing companies you see on TV we are a small, customer-focused outfit. That means your order will be treated with a lot more 'hands-on' care.
What finance packages are available?
We offer a variety of affordable finance options, please visit our finance page for more information and useful pricing examples.
Can I pay a deposit and take the rest on finance?
What are the minimum and maximum amounts I can apply for?
Our loans range from £480 to £25,000.
What eligibility criteria must I meet to apply?
To apply for online finance, you must be over the age of 18, work at least 16 hours a week, or be retired with an income. You must also be a resident of the United Kingdom and have lived in the UK for the last 12 months or more. Unfortunately, we are unable to offer online finance to residents of Eire. Homemakers aren't excluded from applying under their own names; however the employment details of your spouse / partner will be required in order to process your application.
When is my first payment due?
For supply only orders – Your monthly repayments will begin one month after your purchase has been delivered.
For installation orders – Your monthly repayments will begin one month after you have signed your satisfaction once the job is completed.
Can I settle my agreement early?
Yes, you can settle your agreement at any time. The quickest and easiest way to do this is by managing your account online directly with Novuna finance.
What happens if I can't afford the payments?
If you are struggling to meet your payments it is important to notify Novuna Personal Finance immediately. Have your agreement number ready and they can discuss your options.
How long does everything take to go through?
If you apply for finance online you will be given an instant decision – if you decide to proceed the order will be sent straight to our survey team, who will call you within 24 hours to arrange your home survey.
If my application is not successful, can I re-apply?
Yes. We acknowledge that circumstances change and just because a previous application has been refused, it does not mean that a further request will automatically turned down. We do suggest however, that you leave at least 6 months between applications.
How do I find out the price of my door?
The quickest and easiest way to find a price for your new product is to use our online designer.
How do I pay by finance?
Just select the finance option on the checkout page or ask one of our sales representatives if buying over the phone.
Are there any arrangement fees or hidden costs for credit?
No. There are no arrangement fees or hidden extras. All costs are detailed in the terms and conditions.
What type of information do credit reference agencies hold about me?
Some of the information is public information, for example electoral roll, County Court Judgements and bankruptcies. Other lenders may also file information about accounts you hold with them for instance this could include your payment history and outstanding balance on these accounts. Any requests for credit, where a credit reference search has been undertaken, will also be filed, although the result of the request is not recorded.
What if I have a complaint regarding finance?
Our Complaints Procedure
If you are not completely happy with our service we would like to hear about it, that way we can put it right. We do everything we can to make sure our customers get the best products and the best service possible, however, sometimes we may not get things right first time.
We want to:
Make it easy for you to tell us what went wrong
Give your complaint the attention it deserves
Resolve your complaint fairly and without delay
Make sure you are satisfied with how your complaint was handled
How and where to complain
If you are not satisfied with any aspect of our/product service you can tell us about your complaint in the following ways:
In Person: Teesview, Sabatier Close, Stockton-on-Tees, TS17 6EW
In Writing: GFDTrading LTD, Teesview, Sabatier Close, Stockton-on-Tees, TS17 6EW
By Telephone: 01643 309 576
By Email: info@gfdtrading.co.uk
How long will it take?
We will aim to resolve your complaint straight away but if we can`t we will write to you within 5 business days to tell you:
Why we have not resolved your complaint
Who is dealing with your complaint
When we will contact you again
We will usually resolve your complaint quickly, but if it is complex it may take longer. We will keep you informed on a regular basis but if you need an update please call us on the number above and ask to speak to the person dealing with your complaint.
If we cannot reach agreement with you
If we can`t agree a solution within 8 weeks and your complaint relates to our credit brokerage service we will:
Send a letter giving our reasons for the delay and an indication of when we expect to provide a final decision
OR
Issue our final decision letter which will explain our final position
Our aim is to resolve all credit brokerage related complaints internally. However, if after receiving our final decision letter or 8 weeks have passed you may have the right to refer your complaint to the Financial Ombudsman Service (FOS).
Financial Ombudsman Service
If you want the FOS to look into your complaint you must contact them within six months of the date of our final response letter.
Financial Ombudsman Service Contact Details
Address: Financial Ombudsman Service, Exchange Tower, London, E14 9SR
Telephone: 0800 0234567
Email: complain.info@financial-ombudsman.org.uk
Further helpful information can be obtained from visiting their website
How long will delivery take?
Delivery is either 4-8 working days from order date, depending on the design.
How much is delivery?
Completely free of charge.
Can you deliver anywhere in the UK?
We do not deliver to Northern Ireland unfortunately, and we also cannot deliver to the following Scottish postcodes: (DD, KW, IV, AB, PH, PA). However, we do recommend a great haulage company in Dundee who can deliver anywhere in Scotland at very competitive rates. Click here to visit their website to get a free quote.
How soon will I get my delivery date?
Within 48 hours of placing your order our team will send an email confirmation.
Will I need to wait in all day for the delivery?
No, we send an email the day before delivery with a 2 hour time slot. Our vans run like clockwork so the time you are given will be kept to.
Will I need to help the driver?
A delivery person who will unload the door for you securely into your home.
Please note: From a manual handing and insurance perspective we are only allowed to deliver to the business / property entrance – at ground level. The delivery driver cannot climb stairs, open entrances or carry down corridors. Please make sure you have made the necessary arrangements to take delivery to avoid a redelivery charge?
Can the driver call me when he is on his way?
Unfortunately our drivers cannot make calls to customers for health and safety reasons. However, the two hour time slot we give you will always be accurate.
I won't be there – can you leave the door somewhere safe?
If there is a specific safe place (e.g. back garden or garage) we can arrange this but you MUST put this request in writing to us. You can either put this in the notes box on your order or email the sales team.
How much is your fitting cost?
Installation costs are calculated based on the frame style of your door – for example a door with side lights will be a different cost to a standard door. To get an accurate price use our DOOR DESIGNER now to get a price in seconds.
How long does the installation take?
We always allow half a day for an install (maybe even longer if its a tricky fit on an older property), however most standard installations take 2-3 hours.
I have an alarm/doorbell fitted, will you be able to fit this to the new door?
Our installers are not insured to fit anything electrical, so our guarantee does not cover fitting alarms unfortunately. However, if it is simply a case of relocating existing wires we can usually do this as a goodwill gesture. We do recommend that for anything more involved an alarm engineer is sought, and we also recommend using stick on contacts as opposed to drilling into the frame/door which will invalidate the guarantee.
I have heard I need a lintel above about the door before you can install – how can I check for this?
Due to changes in building regulations we cannot remove your existing door unless a load bearing lintel is currently present. Our surveyor will check this at time of survey, however if you are concerned you are encouraged to ask a builder to check this for you prior to placing your order. Most builders do not charge for free estimates and will take a look at this for you.
Will you re-plaster and re-decorate if the walls are damaged during the installation?
In short, no. It is not uncommon on older properties for there to be some inevitable damage during installation, especially if the frame has been there for many years! We will make good any damage to plaster, render or brickwork, by means of either sand and cement or a plaster mix. However, as we are not plasterers we will not re-skim walls and we do not paint walls either. Full details of our workmanship terms can be found in our purchase agreement.
How long before I can have it installed?
From placing your order typical lead time to your installation date is 12-15 working days. This depends on a few factors, such as your location and how busy the local branch is.
Can I see any doors you have installed?
Unfortunately it is company policy that we respect our customers privacy and do not give out addresses. However, you can see plenty we have installed on our Online Gallery.
I know someone who fits doors and he is charging a lot less than you?
Our installation cost is a fixed price that allows us to service the whole UK with the same standard of workmanship, so we cannot compete on price with labour rates of local tradesmen. We also offer a comprehensive guarantee and insurance package with every installation that you are unlikely to get with a local tradesmen. However, if you do want to go down this route to save some money we do not discourage this – visit our DIY page to see how we can deliver the door direct tot you or your fitter.
What happens if I am not happy with the installation?
We ask every customer tho sign a satisfaction note at the end of a job – if there are any aspects of our work you aren't happy with you have the right to not sign this and we will contact you to arrange rectifying any issues you have. We also give every customer DGCOS protection, in the extremely unlikely event we cannot find a resolution the DGCOS can offer you support free of charge. It is worth noting that this is an extremely rare occurrence; as our reviews testify we always like to leave customers happy before we consider a job complete
Why are you so much cheaper than a quote I have had from a TV advertised nationwide company?
Do not be fooled by the empty promises of large national companies you may have seen on TV – their products are by no means superior (quite the opposite in most cases) and they often employ aggressive sales tactics to try and squeeze the best price they can from a customer. We have all had the salesman in our front room who 'makes the call to his manager' and magically reduces the cost by 50%! Our model is transparent – we offer a fixed price and supply market leading products with a superior installation service. Our costs and overheads are lower because we do not employ salesmen or have showrooms, nor do we advertise on TV. These savings are reflected in our online prices, so remember a competitive price doesn't always have to have a catch!
I like the door but I am not happy to pay your installation costs?
There are other options if this is the case – one may be to fit the door yourself? This might sound daunting at first be we have sold thousands of DIY doors over the years that have been self-fitted. Our doors are pre-hung in the frame and set up in the factory, so if you have some DIY skills you may want to watch our installation videos to see if this is an option. The other option is paying a local tradesman to fit the door for you. This should result in a cheaper labour rate, however we advise you are careful in your choice as a poor installation will result in issues with the door. We recommend vetting your tradesman, check their credentials and ask to see previous examples of their work.
Are your doors insurance approved?
Yes, we supply every door as standard with a Yale insurance approved locking system.
What is Secured by Design?
Secured by Design is an accreditation that has been approved and recommended by the Police force. You can choose to upgrade certain door designs to Secured by Design standard, which will add a security chain, spy hole and laminated glass to the door. The locking system is Secured by Design as standard and comes at no extra cost.
Do you use anti-bump cylinders?
Yes, we use a Yale high security cylinder that is anti-bump and also pick, drill and snap resistant. The keys that we supply are also high security keys that cannot be cut by a locksmith like a traditional key.
Does the door have a multi point lock?
Yes, every door has a 3 point multi point Yale lock as standard. This has a central latch and hooks top and bottom as well as shoot bolts in between.
What is laminated glass?
Laminated glass is a security upgrade, and basically makes the glass unbreakable. In the event the glass is attacked it will not smash but instead form a film (like a car windscreen).
Is the door strong or can it be forced open?
Our doors have achieved the PAS24 security accreditation, which puts the door in a variety of brute force attacks. Our doors have passed all tests with flying colours, including crowbar attacks and forced entry.
What energy rating are your doors?
The energy rating of each door will depend on the style you pick, but all of our doors achieve an energy rating between B and D.
I live in a coastal area, will the door stand the test of time?
Absolutely – we have fitted thousands of doors in coastal areas and our GRP skins are the perfect material to combat salt in the air. We also supply every door with stainless steel hardware as standard – this has a 10 year guarantee and will not corrode like cheap chrome plated alternatives.
My door is open to the elements, will I have trouble with water ingress or howling wind?
No way, in fact this is one of the most noticeable changes a lot of customers mention is the hallway feels a lot less draughty. Our doors have all achieved PAS23 accreditation, which means they are tested against extreme weather simulations.
How do I measure the door and get you the correct sizes?
Watch our instructional video which will explain in detail how to get the correct measurement.
Do you have any guides on how to fit the door?
You didn't even have to ask – here is a video that will show you how to get a professional fit. If this looks a bit daunting, consider out First Class installation service.
I am confused about sills and thresholds – help!?
The sills and thresholds may seem daunting but its actually quite simple – click here for a full explanation and also schematics of the sizes.
What furniture do you use?
We use Trojan stainless steel furniture on the doors, which comes with a 10 year guarantee and won't corrode like cheaper chrome plated options.
Are the doors part M complaint?
Our wheelchair threshold is part M complaint, however it is your responsibility to order the door at a width that is suitable to pass part M.
Do your doors come with a Fensa/Certass certificate?
Fensa and Certass certificates are only required if the aperture is over 50% glass, so for the vast majority of doors this does not apply. Certass certificates can be supplied on combination frames with large glass areas.
Do you supply adjustable hinges?
Yes, every supply only door will be supplied with a 3D adjustable butt hinge. We can provide instructions for these upon request.
You ask for an overall size including frame – how wide will the actual door be?
To work out the size of the door itself, deduct 116mm from the overall frame size. If you need to check the clear opening size with the door open at 90 degrees, deduct 174mm from the overall frame size. To confirm: Overall width: 950mm Actual door width: 834mm Clear opening size: 776mm
I have a door to order with a side panel – can the frame be made in one?
No, the side panels will be made as separate frames and supplied with a heavy duty 20mm aluminium coupler. The frames can then be coupled together on site which gives the whole frame a lot more strength and rigidity.
Is my guarantee transferable?
Yes, the guarantee will be transferable to the new owner when you move house – subject to a reasonable transfer fee.
What level of consumer protection will I receive?
We believe that we offer the most comprehensive level of consumer protection available by any online installation company. We offer the following as standard for all installation customers:
GGF (Glass and Glazing Federation protection) membership and protection
myGlazing.com – free consumer advice website
CTSI (Chartered Trading Standards Institute) membership and protection
GGFi insurance policy
TrustMark membership and protection
TGAS (the Glazing Arbitration Scheme) membership and protection
We are often asked by customers if we can 'match another quote' or 'do anything with the price'… The real question that should be asked here is…'does my other quote offer this level of protection and safeguarding?' Not surprisingly, the answer is always no. Read below for more detail on each of these benefits, or visit our consumer protection page for more detail.
What is the Glass and Glazing Federation (GGF)?
The Glass & Glazing Federation (GGF) is a government recognised organisation that represents companies who supply, make or fit glass and related products across the world. It is also the company that owns important industry subsidiaries you may have heard of, including 'Fensa' and the BFRC. Consumers are encouraged to look for an company that are a registered member of the GGF, safe in the knowledge they have a clean account history, at least three years trading and are vetted regularly.
What is myglazing.com?
This is a free consumer website set up by the GGF – it is designed to provide free advice and information for homeowners looking to make a purchase. There are unfortunately rogue companies out there who do not deliver on promises to the customer. The GGF have spent a lot of time and resource putting together information for consumers on www.myglazing.com on how to avoid a costly mistake. We strongly advise that all customers take some time to read the handy guides, which point out what to be wary of.
What is the Chartered Trading Standards Institute (CTSI)?
The CTSI is a non profit membership organisation that represents and supports trading standards professionals. The CTSI's primary objective is to protect the health, wellbeing and safety of consumers by enhancing the professionalism of its members.
What is the GGfi?
The GGFi offers comprehensive insurance backed guarantees to all members. This is the insurance backed guarantee that you will receive, and this will cover all of your guarantees in the unlikely event we cease trading. The GGFi also offer deposit protection, which will give you peace of mind on all deposits and stage payments made.
What is The Glazing Arbitration Scheme (TGAS)?
The Glazing Arbitration Scheme (TGAS) is an independent dispute resolution scheme, and the primary dispute handling scheme for the glass and glazing industry. TGAS can offer legally binding arbitration between traders and consumers, in a fair and impartial way. In the unlikely event a dispute should arise, the TGAS offers a low cost dispute service that can avoid escalation.
Door Specification
Pre-hung ready to install made to measure GRP Composite Door Set.
A-C rated doors, Compliant with all building regulations, PAS 23, PAS24 and CE.
Door furniture in chrome, gold or black with Insurance approved Multi Point lock.
Fully adjustable butt hinges.
Low threshold DDA compliant.
GRP compression moulded skins with Polyurethane thermally insulated core.
44mm door leafs housed in a 70mm Reinforced UPVC outer frame.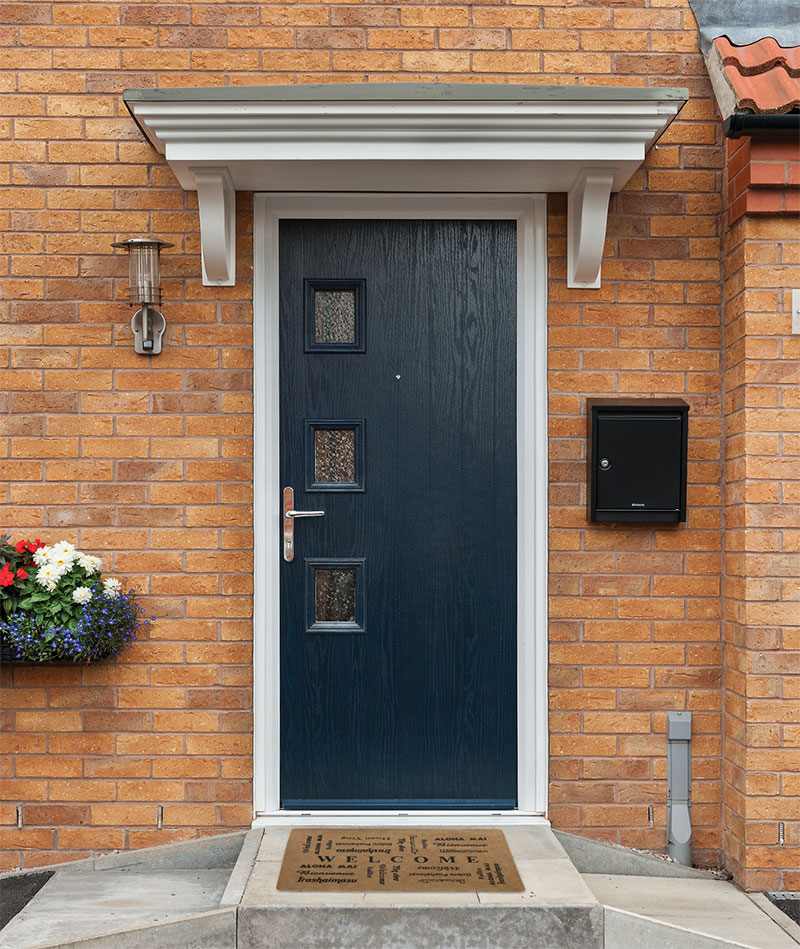 You may also be interested in
You can suite your products to match