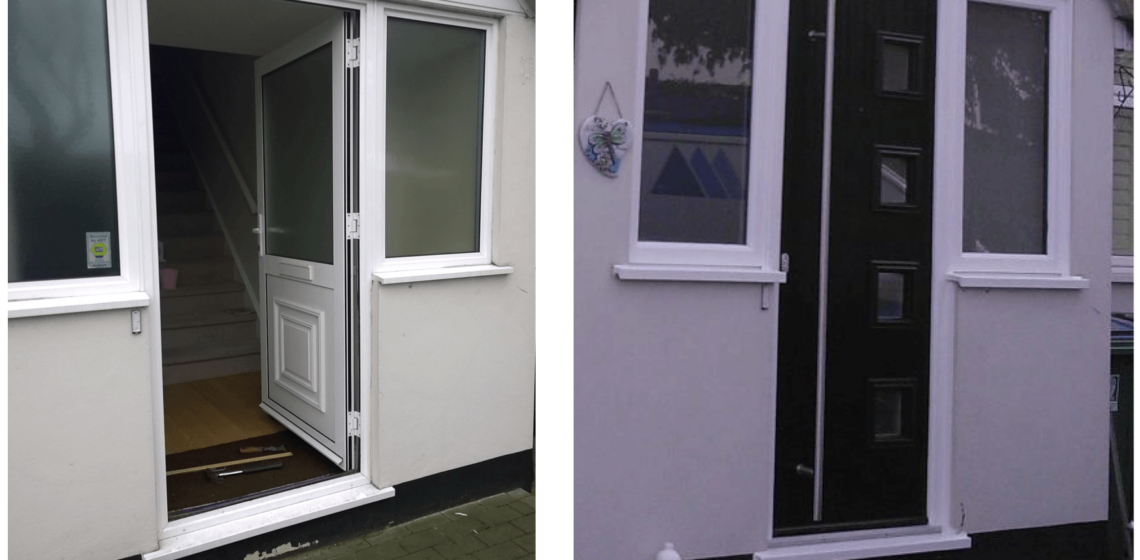 Can a Composite Door transform your home – you decide
On the initial viewing the door below on the left looks a perfectly serviceable if a little dated example of a UPVC door with a single glazed panel but the "wow" factor is definitely missing. Exchange the door for a four square in black with a long bar handle and instantly the image is transformed to being new and contemporary.
As part of every installation our fitting teams are required to take before and after photographs – the former to avoid any later confusion should any dispute arise and the latter to be used for promotional purposes where the majority find a way into our considerable Gallery of completed installations . The Gallery provides actual photographs of all styles, colours and accessories so any prospective customer will invariably find an image that will provide a very good comparison with their own personal design so with a little imagination they can visualise how the new door is likely to look on their new home.
If you have an older timber door (or pair of doors) there is always the temptation / option to leave them for another year and simply give them another coat of paint or varnish, which all takes more of your precious time with no guarantees that the finished job will have the impact you are looking for. The need for annual/bi annual redecoration is banished forever if you choose a new Composite Door as the through coloured GRP cladding not only resists chips and scratches, the only maintenance it requires is a wipe with a damp cloth to ensure it maintains its good looks.
Just to prove that exact point take a look at the before and after of these two examples we know which one we prefer and we know which one we would not like to re varnish – there simply is no comparison in the way the outside of the property is improved in this instance.
Where once upon a time the defence for retaining your old timber door could have been – "When I repaint it I can choose anyone of hundreds of colours and you only offer white" – but those days are long gone with thirteen external colours we have something for most tastes and if your preference is for some obscure shade if you give us fair warning and you are prepared to pay a little extra we can arrange for your door to be any RAL colour you prefer. The two images below illustrate the case in point – from a tired painted "British Racing Green" look alike on the right to a stunning "Duck Egg Blue super new Composite Door on the left – there is no comparison.
Many of the doors that we are required to replace are of the UPVC variety – not necessarily because of anything other than the limitations in styles and colours which they offer
White twin glazed panel UPVC or Grey and stylish ??
With doors in Traditional, Contemporary and Cottage styles we have a lot to choose from throw in the thirteen external colours and a multitude of glass patterns and accessories – make use of our door designer tool and you can create your own bespoke Composite Door to transform the appearance of your home.