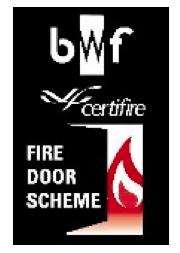 Fire doors – you will find them in all commercial buildings and the majority of homes will have at least one – but what are they and how do they work. The first misconception is that they are designed to stop the spread of fire – WRONG – they hinder the spread of fire rather than prevent the spread of fire and the length of time for which they will hinder the spread of fire is determined by their Fire rating – FD 30 = 30 minutes – FD 60 = one hour
Fire doors are constructed in such a manner that the integration of the various manufactured components which all have some fire resistance qualities which when they are combined into the manufactured door can guarantee a fire rating as that certified.
At Global door we do not believe there should be any mystery over the components that are used to give the door its fire rating so here they are:
An inner door leaf which features a Kerto LVL (laminated veneer lumber) 480g/m3 core which is a highly engineered multi layered board which is clad each side with 2mm GRP decorative facing.
Intumescent strips which foam and swell in the event of fire, thus filling the gap between the door and frame preventing the flow of hot gases and smoke.
A choice of door closers – the traditional surface closer or the Powermatic concealed door closer.
Pyrodur fire re-resistant glass features throughout the Fire door range Pyrodur fire resistant glass is tested and approved according to BS 476: Part 22 for both integrity and insulation.
The use of and positioning of Fire Doors in buildings is governed by the legal requirements as set out in the Building Regulations should you wish to check out all of the requirements applicable to fire doors they are available at –www.planningportal.gov.uk/uploads/br/BR_PDF_ADB1_2006.pdf but it is a weighty and complex document not recommended for bed time reading In summary when the April 2007 regulations relating to fire doors were modified, the guidance note requires that a building is divided into compartments, protecting escape routes, such as corridors and staircases and that protection is to be provided by Fire Doors
As the rules have changed so has the choice of fire doors improved check out the Global Fire range web site they now come in a variety of styles which mirror the range of standard doors –
and a range thirteen colours to make the matching with your internal decor be it home , office or any commercial building ever so simple.
When you purchase your FD 30 rated fire door from Global Door the price it comes with all the required accreditation – All fire doors have been tested to BS 476 Part 22, and subject to the Q-Mark enhanced security scheme. Each door in the range is manufactured to a high level of security and complies with PAS023/PAS024 security accreditation as well as Secure by Design (SBD) requirements.
And most importantly the confirmation of compliance with the fire and smoke test requirements for up to 30 minutes (FD30s) s issued by Warrington Exova and independently assessed by Certifire (CF5324).
Only be purchasing a third party certified door can you be sure that you are purchasing the knowledge and reassurance that it is a fully tested, uncompromised fire door.